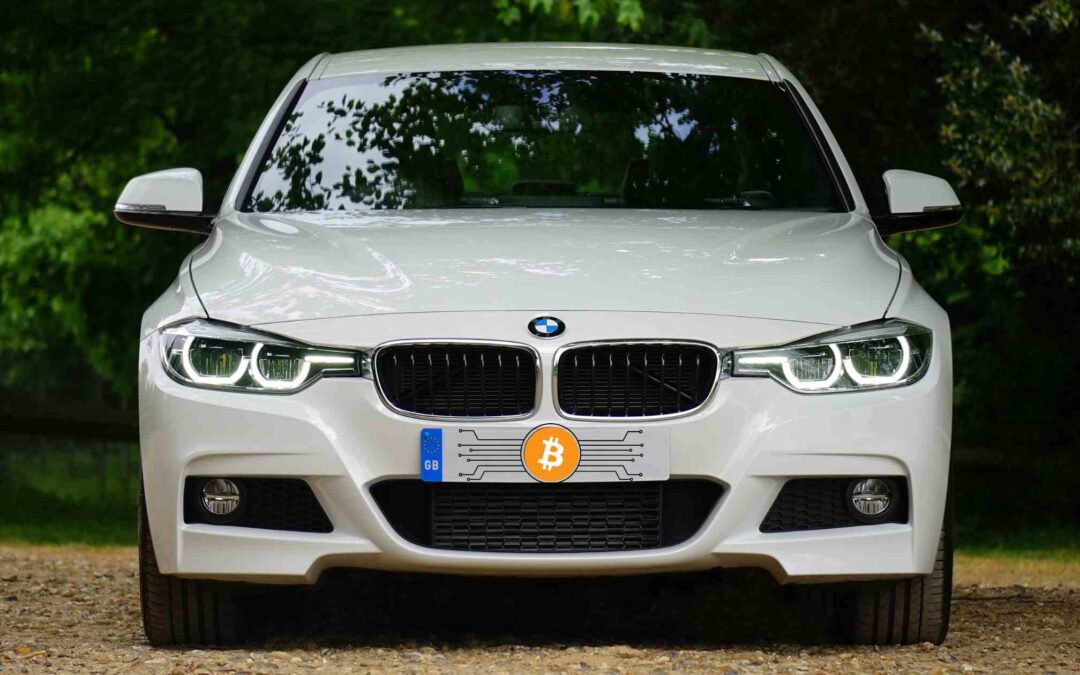 Are you planning on buying a car with Bitcoin? Cryptocurrency is now used to buy real-world assets such as cars and even real estate. While this payment method isn't accepted worldwide, more and more services are starting to consider it. And car dealerships are no exception. 
In 2021, Tesla's CEO, Elon Musk, announced that it would accept Dogecoin as payment for Tesla. Meanwhile, the offer is no longer standing, but that doesn't mean you can't use Bitcoin to buy a car in 2023.
Is it legal to buy a car with Bitcoin?
Yes, it is indeed legal to purchase a car using Bitcoin. You can also use other popular cryptocurrencies, such as Dogecoin and Shiba Inu. However, similar to any other online transaction, it is important to exercise caution and adopt certain safe practices.
The first thing you need is to find a reputable car dealership that accepts Bitcoin as a payment method.
You can do this by checking out reviews on third-party consumer forums to discover the best places to purchase cars with cryptocurrencies. Platforms such as Crypto Emporium and BitCars have supported crypto payments for some years now and have excellent reputations in the market.
One of the advantages of using cryptocurrencies like Bitcoin for transactions is that they are generally secure. This means that you do not need to disclose any personal financial information, as transactions take place directly between two digital wallets. This method of payment contributes to your safety and security during the transaction.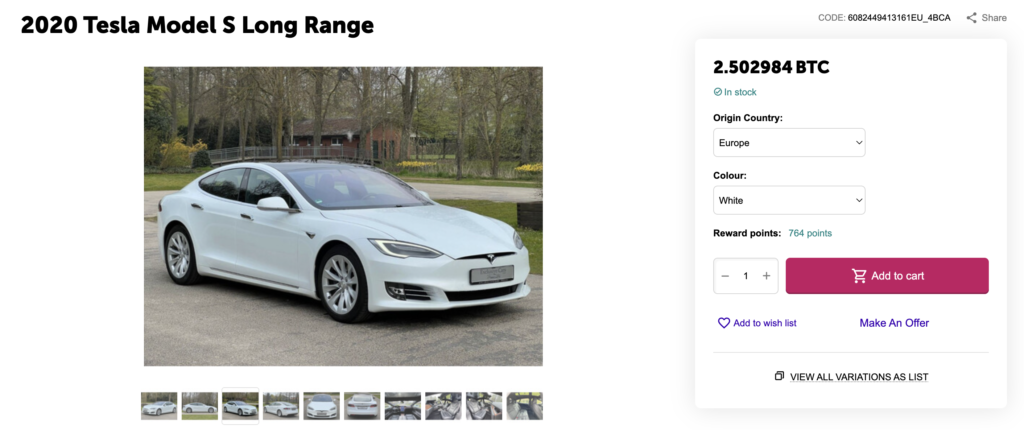 Where to buy a car with Bitcoin
Where do you go to buy a car with cryptocurrency?
While there is no car manufacturer that accepts cryptocurrency throughout their distribution network as a whole, there are specific car dealerships that have implemented cryptocurrency payment services to serve customers who wish to complete their purchases using digital assets.
In the end, it's up to you to find a platform that allows crypto payments for products such as cars. Some of the most popular options for such purchases include: 
One of the most popular payment services is BitPay, which is already used by some Lamborghini and BMW dealerships thought Europe, the UK and the USA.
Finding out if a car dealership accepts Bitcoin or other cryptocurrencies is simple. The quickest way is to call local dealerships and ask. Salespeople might need to check with management, but they should give you an answer soon.
You can also look at car dealership websites to see if they accept Bitcoin. However, these sites mainly focus on selling cars and might not clearly mention payment methods, so it could be a bit frustrating unless the dealership prominently displays this option.
How to buy a car with Bitcoin (or any other cryptocurrency)
Buying a car with cryptocurrency can be done from a dealer that accepts it or from a private seller who is comfortable with crypto. Usually, dealing with a dealer is easier. Here's a simplified plan:
Find out which dealerships accept cryptocurrency.
Research different cryptocurrency exchange apps and learn how they work. The dealer might prefer a certain app like BitPay. Depending on the payment processor, you might need to set up an account.
Confirm that the dealer accepts the cryptocurrency you own. Bitcoin is one of the most commonly accepted.
Choose the car you want to buy.
Follow the dealership's instructions for the exchange.
What's the advantage of buying a car with Bitcoin?
There are several reasons why some crypto investors prefer to use Bitcoin to buy a car:
Fast Payments. Bitcoin transactions are usually faster than traditional fiat payments. Traditional payments rely on bank transfers or credit/debit cards, which require multiple intermediaries for processing. In contrast, Bitcoin transactions are decentralised and don't involve intermediaries, allowing for quicker transactions that often take only a few minutes.
Highly Secure Payments. Bitcoin transactions use advanced encryption techniques, making them highly secure. They are recorded on a public ledger called the blockchain, which is virtually impossible to counterfeit or alter. Once a transaction is recorded on the blockchain, it can't be amended or deleted. This immutability makes all transactions permanent and tamper-proof, hindering anyone from manipulating network records.
Lower Transaction Fees. Bitcoin transactions typically have lower fees than traditional payment methods such as credit cards or wire transfers. This advantage becomes especially significant for international transactions, where traditional remittance fees can be high. Crypto transactions could potentially eliminate 97% of these fees, making large, cross-border transfers more cost-effective.
No Transaction Limits. When purchasing a car with Bitcoin, you don't need to worry about transaction limits. This is important when making big purchases like cars. Credit card companies and banks may decline a purchase exceeding a certain amount, but cryptocurrencies have no such limitations. This ensures that the transaction proceeds without any delays.
Should you buy a car with Bitcoin?
Whether or not you should buy a car using Bitcoin greatly depends on your comfort level with risk and volatility.
Cryptocurrencies, including Bitcoin, are known for their dramatic price swings.
Take, for example, Bitcoin's performance in November 2021, when it reached a high of nearly $69,000. At that point, you could have purchased a new Porsche 718 Cayman with just one Bitcoin. Fast forward to the present, Bitcoin's value is around $17,000, so the same Bitcoin would only be enough to buy an average city car.
The value of cars doesn't fluctuate as significantly as cryptocurrencies, which makes this kind of transaction risky. However, a workaround for this volatility could be to use stablecoins, which are cryptocurrencies designed to maintain a stable value relative to a specific asset or a pool of assets. A good example is the USDC or USDT,  which you can store in a crypto wallet and use for car payments, thus mitigating the risk of your crypto's value suddenly dropping.
That being said, if you are a firm believer in the future of cryptocurrencies and their potential to revolutionise our financial system, buying a car with Bitcoin could be an exciting way to apply this innovative technology. Plus, there is a certain novelty factor in being able to tell your friends that you bought a car using Bitcoin.
Ultimately, the decision to buy a car with Bitcoin should be based on your personal financial situation, your tolerance for risk, and your belief in the future of cryptocurrencies.