According to crypto experts, cryptocurrencies will have a greater impact on the retail industry in the future as more people invest in digital currencies.
Although the cryptocurrency market appears to be in a bear market right now, it's not hard to see that the industry has grown tremendously over the past few years, especially when looking at adoption.
According to a recent study by Insider Intelligence, digital assets will be used more often by Americans to make daily purchases. The study suggests that we will see a 70% increase in the use of digital assets for purchases by the end of 2022. This is a significant increase from 1.08 million users (in 2021) to 3.6 million users. The global crypto transaction volume is expected to hit $10.4 billion this year.
The volatility of the crypto market is decreasing due to the increased use of stablecoins as well as central bank digital currencies (CBDCs). This will lead to more people considering these digital assets to be legitimate payment options. According to the research, 12.8% (33.7 million people) of the US population will hold crypto by the end of 2022.
This number could rise to 37.2 million by 2023. This is a realistic figure, especially considering that the number of investors who have entered the global crypto market has nearly doubled in the past 12 months, particularly when you consider that there are many countries such as India, Brazil, and Hong Kong that have seen a significant increase in their investment.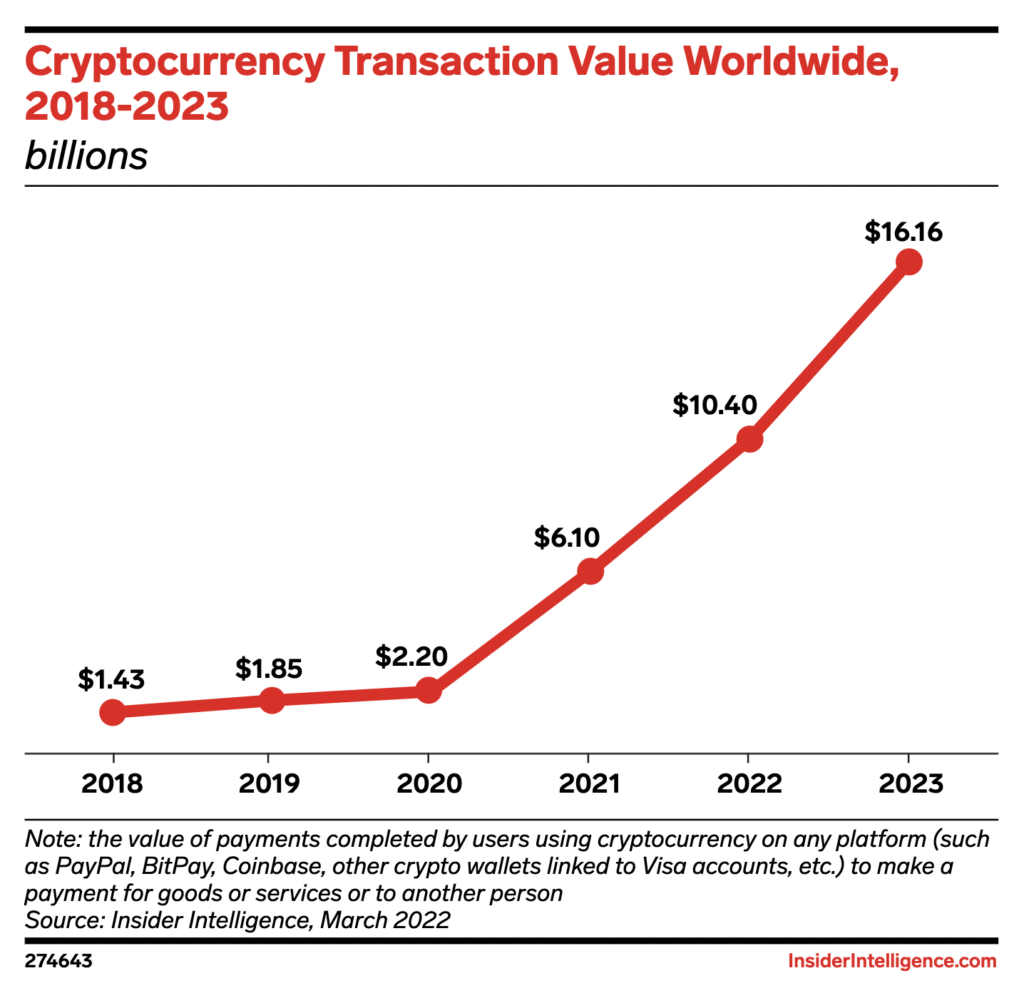 It's time to see massive crypto adoption in retail payments
Max Krupyshev, CEO of CoinsPaid, a crypto payments processor, believes that cryptocurrency payments will experience exponential growth over the next three years:
"I think we will be able to talk about tens of millions of users in the United States alone by 2025. The American market is a fertile ground for any innovative solutions. Another factor driving crypto's adoption as a day-to-day transactional currency is that it is becoming increasingly easier to buy, spend these assets with global brands."
He also stated that Asia could surpass America when it comes to crypto payments. The region is flexible in accepting new and upcoming technologies. We should also be aware of the increasing popularity of cryptocurrency in African countries. There is a high demand for crypto apps as well as alternative investment tools with a low entry threshold.
Brandon Dallman, the chief marketing officer of the DeFi ecosystem Unizen, believes that the cross-border remittance and retail payments ecosystem had been dominated for a long time by a few players such as Western Union, PayPal, and Stripe. With the rise of cryptocurrency in popularity, people can now bypass issues such as middlemen and high fees:
"Fast blockchain networks are suitable rails for CBDCs like the digital dollar, euro etc. The blockchain that is able to cater to the demand put forward by financial institutions like stock exchanges and clearing houses will win the battle. We are seeing banks of all sizes dip their toes in the water to see how they can start to interact with the new digital world in front of them, driven by a growing fear of being left behind."
But crypto may not be for everyone
However, not everyone is on the same page when it comes to the crypto adoption perspectives. The head of research and strategy at cryptocurrency exchange AAX, Ben Caselin, stated that although we might see custodial stablecoins being adopted in the near future, it is highly unlikely that we will be heading toward a massive crypto payments society.
"With increased integration, we can expect more vetting and regulation which will not bode well at all for crypto. There might be some venues where particular tokens may be the currency of choice, for example, a Bored Ape-themed restaurant is likely to accept payments in ApeCoin. But, other than that, I'm of the view that ultimately, real-world payments and store of value utility will converge on Bitcoin, although this does not discount the continued growth of online and offline micro-economies."
However, he agreed that it was encouraging to see mainstream people get a better understanding of money. He noted that if merchants and corporations can actually hold the crypto assets they are paid with, this could be very exciting.
What cryptocurrency is suitable for retail payments?
Some of the top condensers for the role of retail crypto payments are Solana (SOL) and Bitcoin (BTC). Some believe that Solana (SOL) can easily accommodate everyday transactions, as it offers high speeds and low gas fees, making it more accessible. Bitcoin (BTC) is a bit more controversial, but it was already chosen as a legal tender in some countries (El Salvador and the Central African Republic), which may lead to a more mainstream approach and increase in popularity.
Many of those already working in the crypto space believe that Bitcoin will be a more popular method of payment than any stablecoin even though most products and services are denominated using U.S. dollars. Some supporters say that Bitcoin (BTC) has proven its viability, having survived multiple crises and more than one crypto winter. Bitcoin seems to be working well for larger transactions, but can also become more viable for smaller transactions as a result of advances in solutions built on top of the Lightning Network.
However, it is unlikely that BTC-centric payments will be implemented at a mass scale over the next few years. This is due in large part to the fact production costs are still paid using fiat currencies. They are typically tied to the U.S. Dollar, Euro, British Pound, yen, or yuan.
Besides Bitcoin (BTC), Ether (ETH) could also be a strong contender for the go-to global payment crypto for retail businesses, due to its market dominance and popularity among investors.
There is also no doubt that the most used and held cryptocurrencies will gain the most ground in the payments market. As transactional currencies, the 20 largest coins in market capital will prevail. And stablecoins will surely be part of that market.
Mainstream and big companies are already accepting crypto payments
The popularity of crypto assets has increased rapidly, with many famous brands now accepting digital currencies. Microsoft accepts Bitcoin crypto payments for its various services, including Xbox Live, Microsoft Apps, and games.
Overstock, an American online furniture retailer, appears to be the leader in crypto shopping. The reason is that the company currently accepts a variety of digital tokens including Bitcoin, Litecoin (LTC), Ether (ETH), and Monero (XMR ). Home Depot, America's largest hardware store chain, accepts Bitcoin payments via Flexa's checkout system. This is a crypto payments ecosystem supported by Gemini.
Starbucks also has partnered with Bakkt futures exchange, which allows users to pay for their coffee and other digital goods using digital assets. This is also true for American supermarket chain Whole Foods. Recently partnered with SPEDN, allowing users the ability to purchase all their groceries using BTC or LTC. SPEDN does not only apply to Whole Foods. It also allows users to use their digital holdings at Jamba Juice, Jamba Juice, Regal Cinemas, and Baskin Robbins.
AT&T, the first American telecom provider, has offered its clients crypto payments. BitPay is a third-party payment portal that allows users to access the company's services and offerings using Bitcoin.
Other than the ones listed above, there are many other notable brands that accept crypto payments. These include entertainment company AMC, travel booking agent Travala and American department store franchisee JCPenney (through gift cards). GameStop is also accepting crypto payments.
We are moving into a future in which digital currencies will continue to grow in popularity at an alarming rate. It will be fascinating to see how crypto integrates into the global retail landscape, particularly in terms of competing with or complementing existing fiat payments systems.