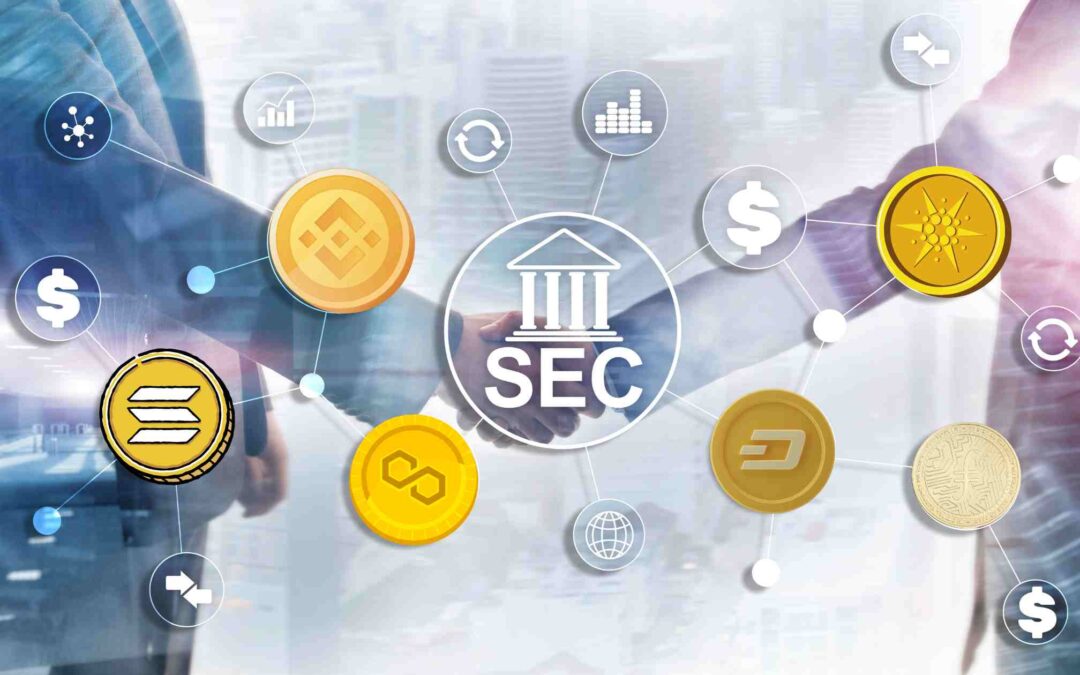 After recently suing Binance, the SEC now targets Coinbase for allegedly operating as an unregistered securities exchange, adding to regulatory scrutiny in the crypto industry.
The U.S. government's finance watchdog, the Securities and Exchange Commission (SEC), is suing Coinbase. Coinbase is a big company in New York that trades cryptocurrencies like Bitcoin.
The SEC says that Coinbase should have registered as a broker, national securities exchange, or clearing agency, but they didn't. 
This registration helps keep trading fair and transparent.
Also, the SEC claims that Coinbase has been selling certain cryptocurrencies that it shouldn't have. These include Solana, Cardano, Polygon, Filecoin, The Sandbox, Axie Infinity, Chiliz, Flow, Internet Computer, Near, Voyager Token, Dash, and Nexo. According to the SEC, these count as securities, and you need special permission to sell them.
The lawsuit also says that Coinbase has been working like a broker for securities since 2019 without the needed registration. This is two years before they first started offering public shares in April 2021.
The SEC says that Coinbase's staking program is also a problem. This program involves five different cryptocurrencies. According to the SEC, this makes the staking program an investment deal and counts as a security. Coinbase has been arguing with the SEC about this, saying its staking products are not securities. They keep arguing even though Kraken, another crypto company, settled with the SEC and stopped offering staking services in the U.S.
Gary Gensler, the head of the SEC, spoke about the lawsuit against Coinbase. He said Coinbase had not given its customers enough protection against scams and manipulation. They've also not been open about conflicts of interest. Gurbir Grewal, who is in charge of enforcing SEC rules, said that Coinbase knew they were breaking federal securities laws, but they did it anyway.
After the SEC announced its lawsuit on June 6, the price of Coinbase's shares fell by 15% before trading started.
SEC also sued Binance US
The SEC's lawsuit against Coinbase happened just one day after they also sued Binance. Binance is another crypto company that the SEC accuses of breaking securities laws and mixing up customers' money. Binance is in trouble for breaking 13 different securities laws.
The U.S. Securities and Exchange Commission (SEC) has charged Binance, the world's largest crypto exchange, and its founder, Changpeng Zhao. They're accused of mixing up billions in user funds and sending them to a Zhao-controlled company in Europe.
The SEC says Zhao and Binance dodged their own rules to let rich U.S. investors keep trading on Binance's unregulated international platform. It's even claimed that an executive admitted the company acted as an unlicensed securities exchange in the U.S.
The lawsuit also suggests that Binance.US was created to protect Binance and Zhao from legal issues. Two former Binance.US CEOs, likely Catherine Coley and Brian Brooks, raised concerns about Zhao's control over the company.
Between 2018 and 2021, Binance made $11.6 billion, mostly from transaction fees. The SEC claims that Binance knowingly had many U.S. customers and didn't act, even though it's against federal law to offer and sell unregistered securities. Binance's compliance efforts in 2019 were mostly for show, according to the SEC.
Lastly, the SEC accuses Zhao of setting up a plan to help rich customers evade regulations using a VPN service to hide their location and fake compliance documents to cover their tracks.
Coinbase is a publicly traded company
But people in the crypto industry are confused about the lawsuit against Coinbase. This is mainly because Coinbase is a company that has publicly traded shares.
Binance's boss, Changpeng Zhao, responded to the lawsuit against Coinbase by teasing the SEC.
Paul Grewal, the top lawyer at Coinbase, said that the SEC's focus on punishing rather than setting clear rules for digital assets is bad for U.S. business. He said we need new laws that create fair and clear rules for everyone instead of lawsuits. But for now, Coinbase will keep doing business as usual.
"The solution is legislation that allows fair rules for the road to be developed transparently and applied equally, not litigation. In the meantime, we'll continue to operate our business as usual."
A lot of people in the crypto community are wondering how Coinbase could have gone public in 2021 if it was acting like an unregistered securities broker.