Let's talk about
blockchain
and football. These two don't seem to work together, at first, but actually there are more than a few ways we can use the two concepts in the same sentence. This rather new technology has quickly started to be used in a wide array of domains, including football. Today, there is a special branch of gaming called fantasy football blockchain games.  Blockchain is a radical invention that has disrupted the finance industry. In addition, it has great potential in several different businesses, too. And football, or soccer, is the newest among a series of businesses taking steps to embrace blockchain technology.
Apart from offering different methods to play sports, blockchain engineering can also be providing new options to guarantee data integrity (such as scoring) is transparent and secure. The possibilities are quite diverse in using this technology. To sum up some of the situations in which blockchain can help the football industry, we would say tracking of tickets sale, easing the compliance with the GDPR law in Europe, an alternative to fiat/cash in football-related events, public record-keeping.
For individuals searching for new or even more secure approaches to play fantasy football, blockchain tech provides some interesting options. Some are functional, others are just announcing their development, while others are constantly postponing the launch. So what are the most sought after fantasy football blockchain games? After some internet digging, we came up with this list. Let us know what we should add, as we are always trying to keep fresh all data we present on digitaltokens.io.
Let's take a look at the companies what we found so far to be uniting the two industries.
Bitcademy
What is Bitcademy? Bitcademy is a decentralized platform, which promises to offer tech solutions to the current football industry.
They aim to become an industry standard, by turning to tokenization of gamers and decentralization of the marketplace.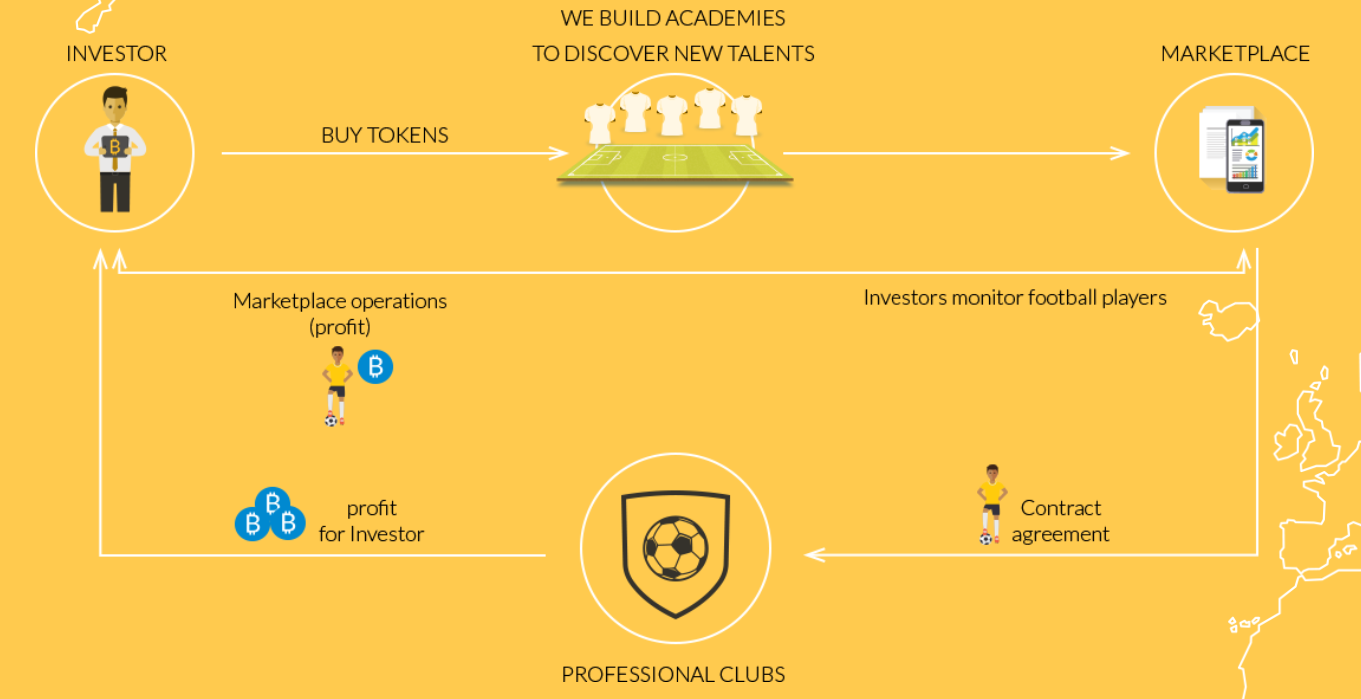 The  services available at the marketplace are:
Talent management
Football players stats
Trading player tokens
Predictions
Bitcademy is a strong believer of the blockchain technology and the impact it can have in football. They recently stated in a medium article:
We will continue to push the market towards modern football solutions because we believe that player tokenization and market decentralization is the only way to go for the future.
Blockchain Football
Blockchain Football is a work in progress project, with non-fungible Ethereum tokens, which represent collectable football player cards.
The scope is to create a new ecosystem, in which the player can decide what role to have: Manager, Agent, Sponsor, Punter. This is the game in which virtual teams play using real stats from the players. Since this is using an Ethereum ERC-721 Non-Fungible Token (NFT), you will need to install  MetaMask on Chrome, and it will not work on mobile devices.
CashBet
A next generation solution designed to improve the gaming experience for players
This is the first phrase Cashbet uses to describe themselves.
CashBet is a new generation of monetization platform for social and mobile gambling.
It is a modular game system, comprehensive, and fiat-and-cryptocurrency prepared. They offer everything from back-of-house solutions to customized apps.
Last year, Arsenal signed a sponsorship deal with CashBet, with the aim to promote CashBet's Initial Coin Offering (ICO) at the 60,000-seat Emirates stadium. This deal was regarded as the first time a major global sporting team has officially partnered with a cryptocurrency company.
CashBet said it is "actively targeting a global, multibillion-dollar marketplace of i-gaming content providers, operators and players".
CoinDeal
CoinDeal is a cryptocurrency exchange, launched in 2018. They brag to be one of the best exchanges in the world, considering their daily volume, which is stated on CoinMarketCap. CoinDeal offers over 40 trading pair and users have the possibility to vote for their favourite crypto to be added to the platform.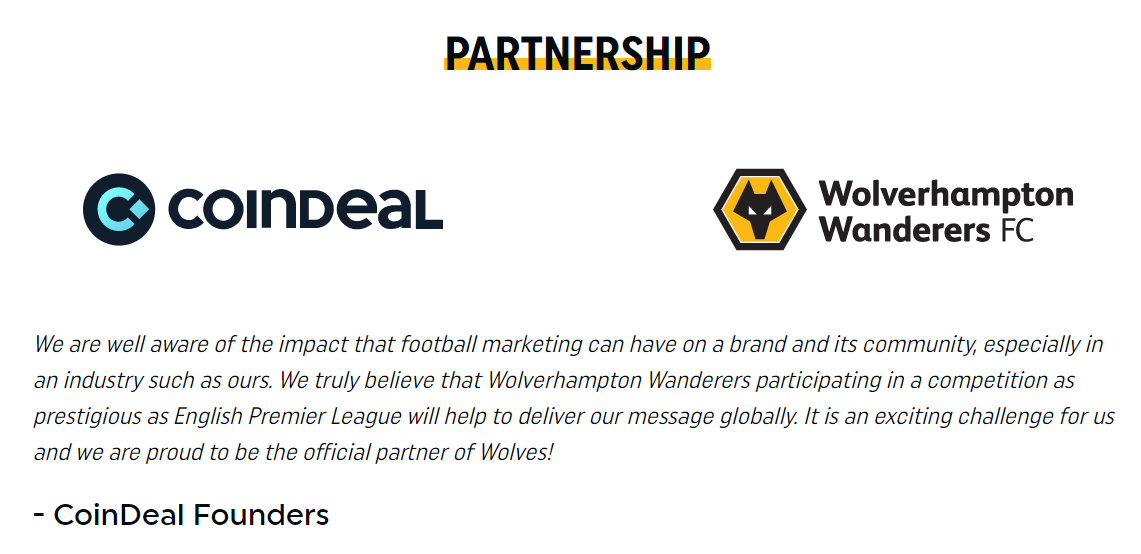 CoinDeal has just entered into their 2nd year of partnership with a Premier League team. After a successful 12 months with Wolverhampton, CoinDeal has now become the first permanent sleeve sponsor upon the club's promotion into the Premier League.
The company will be the first in their country to host a Premier League club and also have seen a rapid increase in interest and habit since connecting with Wolves.
Crown League
Crown League is a US-based fantasy football project, in development, which strives to bring a decentralized American football platform for fans who lack ownership. Basically, this platform will somehow add the missing link between fans and football teams and players. It is advertised to be the "world's first professional fantasy football league", built entirely on blockchain.
The platform was due to launch this season. However, they have postponed it for next season. To add some sarcasm to the situation, how can this be the first platform of its kind, when it wasn't even launched? Sounds more like a PR agency than an actual blockchain project.
eToro
eToro was founded in 2007 and is a global multi-asset investment platform, easy to use, with a database of over 6 million users. The platforms provide tools to invest in and create a portfolio with cryptocurrencies, stocks, commodities, ETFs and more.
The eToro system has two unique instruments, which ease the trade of cryptocurrency: CopyTrader and CopyFund. CopyTrader is an advisable tool for crypto newbies, who aren't certain what crypto to select for investing. It unlocks access to best dealers' strategies an assists beginners to analyze and gain their private trading experience. CopyFund, allows more experienced users to diversify their portfolio instantly, leveraging the ability of artificial intelligence.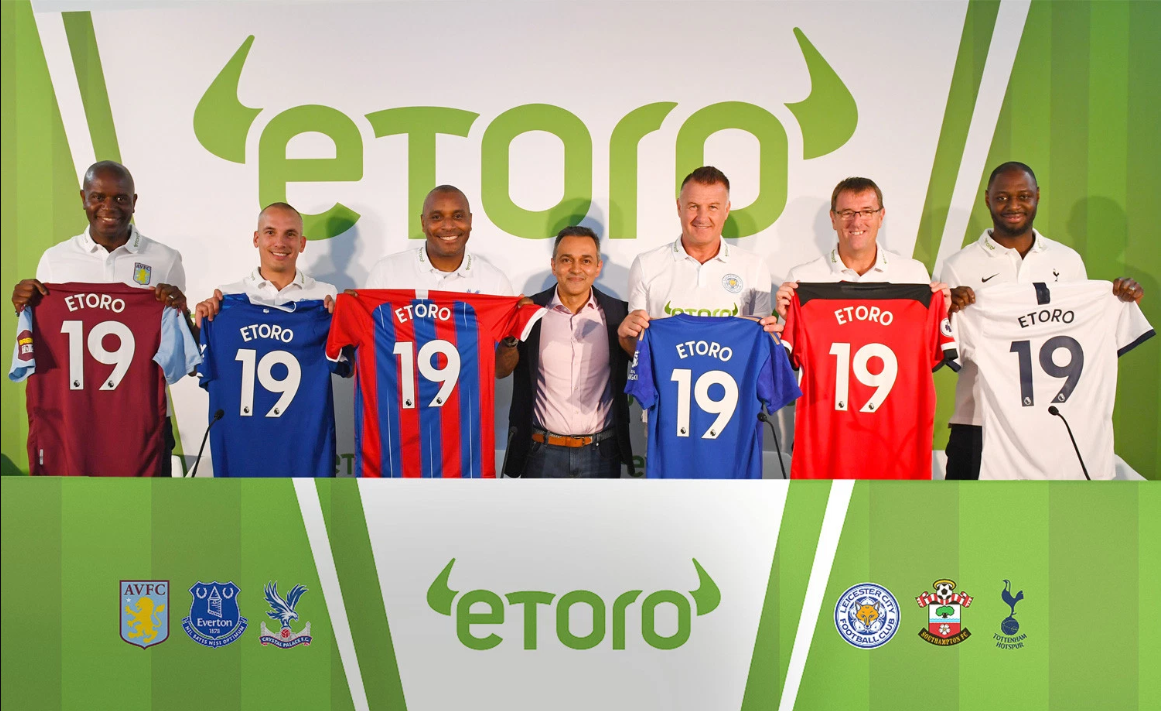 Recently, eToro announced its second year as their biggest sponsor of six Premier League teams: Southampton, Tottenham, Crystal Palace, Leicester City, Aston Villa and Everton.
Fantastec SWAP
Remember those collectable albums we had as kids? Now, it's all digital and on the blockchain. the aim of the game is to complete all the clubs' albums. This is done by buying collectable packs and swapping them with others, hence the name of the game, Fantastec SWAP.
"Collect your favourites" is the headline of this digital collectable blockchain platform. Every new football season, new collectables are added, "featuring player autographs and exclusive content." The game is available exclusively on mobile platforms, iOS and Android.
This seems to be a game for football team fans, players and collectors. They developers promise they will sign more partnerships in the 2019 season, and users of the platform will have the rare chance to collect new football player cards, autographs and more.
The game lists the logos of 3 prestigious football clubs from European leagues on their homepage: Arsenal, Borussia Dortmund and Real Madrid.
The blockchain on which the entire platform is built upon will ensure that transparent and secure trades are made, while the available pack are drawn fair.
Fantasy Manager Football 2019
Fantasy Manager is a mobile football simulator.
The users are the managers and you can choose your team, using real-life players. The stats of the players are based on real-life players. The game is available only on mobile platforms, iOS and Android.
Fantasy Manager Football 2019 is developed by From The Bench, who claims to be the biggers sports game developer in the world, "with the biggest official franchise of football clubs as well as official licenses of the NBS, NFLPA and MLBPA."
PRO Football Supervisor 2019 Cup brings you the very best experience of true performance with the greatest soccer player rosters by engaging a leading manager and battles coming from all football fans globally. Contain Cristiano Ronaldo, Diego Costa, Bacca, Higuain, Griezmann, Bale or even Neymar in OFFICIAL CLUBS like Juventus, Chelsea, Real Madrid, Barcelona, etc on your roster. Start developing your livelihood of football manager and reach the best in this sport game by winning matches.
Download PRO Football Supervisor 2019 Cup, trainer in the true league at no cost and direct a formal group in this soccer game! Handle your favourite clubs utilizing the very best approach and be the ultimate winner! Are you going to visit Russia to score a winning goal?
FootballCoin
FootballCoin is a daily fantasy football blockchain game, that includes 11 of the top leagues. Players are judged on their real performances and winners are awarded XFC cryptocurrency for their knowledge.
FootballCoin is not just another fantasy game, but it's the first game built entirely on blockchain. There is a major difference between blockchain games and crypto games and FooballCoin proudly represents the first category. DigitalTokens team considers this to be an important milestone in the blockchain adoption process by the mass, as FootballCoin is clearly one of the top fantasy football blockchain games.

FootballCoin promises real winnings, real-life stats, collectables and manager experiences. The game uses crypto to run its own economy, and they used their own blockchain, where anyone can check the transactions of the game's cryptocurrency. All the major European leagues are featured in the game, as well as the Chinese and American ones.
FootballCoin is a rather complex game, that uses collectable cards for each footballer, and depending on their real-life stats, some are ranked higher and are in limited number on the blockchain. These collectable cards are regarded as assets, which can be traded or sold inside the game. The cryptocurrency used within the game is also available for trading on different cryptocurrency exchanges, such as CoinDeal.
The key points FootballCoin takes pride in these 3 key points: free to play, positions itself as a blockchain game and it has a reality-based scoring system. And by using your football knowledge to create football teams using real-life footballers, you will earn real crypto which you can use to buy collectables or exchange for other cryptos or sell from fiat.
FottballCoin is playing big and acts in real-life too, and earlier in the 2019 football season, FootballCoin has become one of the sponsors of a top team from the Romanian football league.
FootballStars
FootballStars is a free football manager game, with 2 different play modes, which take football fans to a new level.
Divided into two fully functional modes – Challenge-Mode and Manager-Mode – Football-Stars offers whatever football fan hearts desire. While the Challenge-Mode lets users face new challenges with their self-assembled teams on a daily basis, Manager-Mode users manage their individual teams to fight for the title over the course of an entire season. Both modes are based on the football players' real-life performance data, which are being tracked through our data provider, "Opta".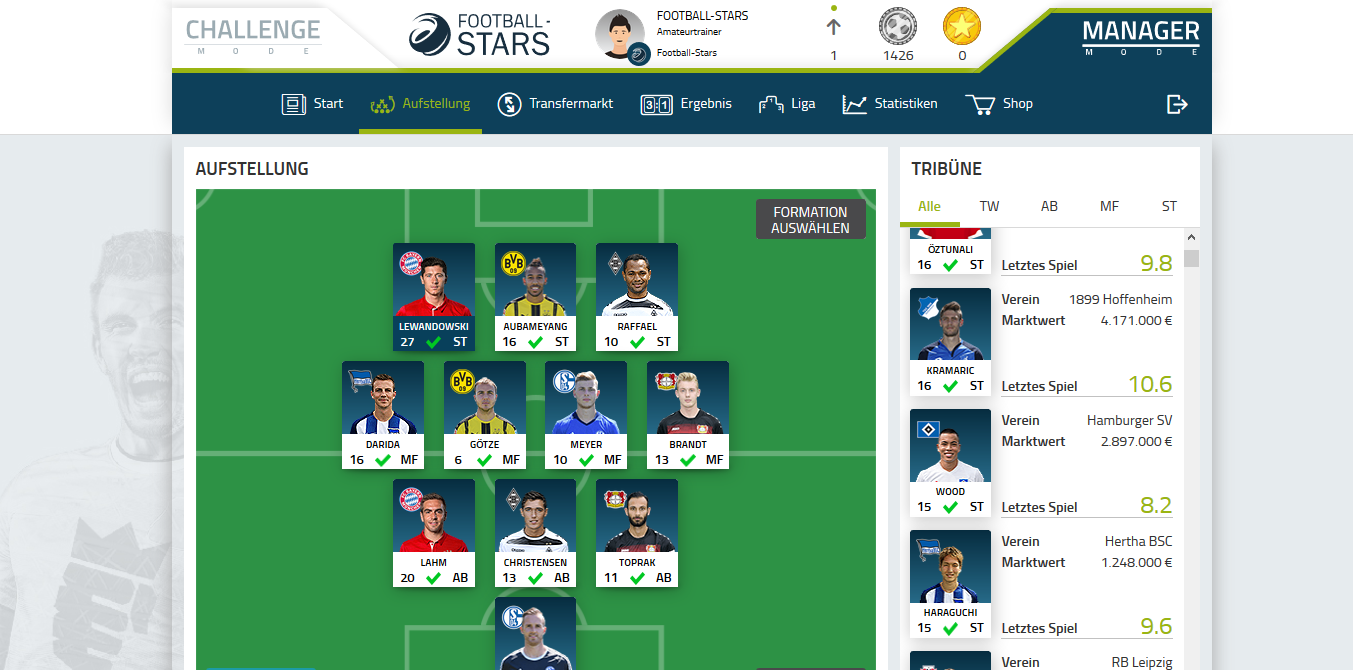 FootballStars brags to have the rights for using the official photos and logos of the Bundesliga but also featured the top 5 leagues in Europe. The game is free to play, and the coins won in the game can be ultimately exchanged for amazing gift cards or other products.
Football-Stars is incorporating blockchain technologies to deliver token-based interactions, through the STRYKZ token (the token of the founding company), to its own platform.
Soccer Manager
Since 2018, Chimaera, the self-proclaimed first blockchain gaming platform, has entered a partnership with Soccer Manager to build a blockchain football management game.
The Chimaera blockchain functions as a decentralised gaming backend that's scalable, secure, and trustworthy. They stated:
Play-to-Earn gaming will make freemium gaming as we know it obsolete. Players are no longer burdened to keep shelling out money the further they progress in a game. The opposite is true- the more they play, the bigger the earnings.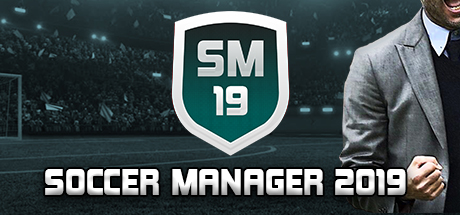 The game features League and friendly matches as well as tournaments. Players can also challenge themselves directly and compete against each other, in the quest of SMCs (Soccer Manager Coins).
Socios
Becoming more than just a fan of your favourite football club or player, is what Socios is all about. The app aims to give a voice to the true fans of football and let them vote and decide on club matters. Socios doesn't look like one of the fantasy football blockchain games you'd expect, but it promises to involve football and blockchain, and hence, its appearance on our list.
Socios calls it making an impact:
When you own Fan Tokens, you join a pool of supporters whose collective decision-making power is absolute. Our partner teams will seek your input on club matters by running binding and non-binding polls – binding poll results are an instruction which clubs agree to follow.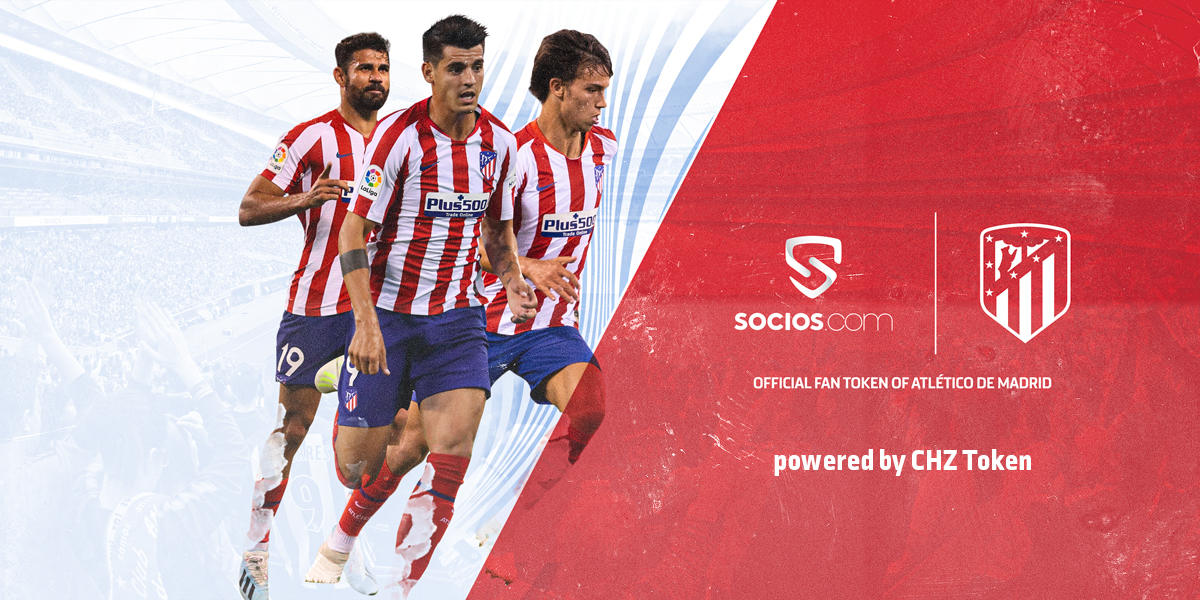 Other milestones are highlighted on their homepage, such as rewards, leaderboard, games, market place, and a fan shop. So far, Socios has become partner with some prestigious European clubs: Paris-Saint Germain, Juventus, West Ham United, AS Roma and Atletico Madrid. They have also partnered with an e-sport team, OG.
SportyCo
SportyCo is a decentralized sports investment platform, who has recently become an official sponsor of RCD Espanyol. The investment platform is supported by footballers like Roberto Carlos and Ronaldinho.
SportyCo believes that each and every promising athlete deserves the chance to pursue their professional career and each little investor hass to have the ability to back an athlete they believe in. Why is this shift necessary?
The up-and-coming athletes at the beginning of the pro careers face a good deal of issues associated with financing their training and involvement in events throughout the world. Additionally, many sports clubs and other sports businesses cope with acute financial and liquidity problems. That is why SportyCo makes a direct appeal towards investors and athletes
SPF Token is at the base of SportyCo's ecosystem. The blockchain-based system is supplying the best, most secure, and transparent crowdfunding mechanism.

Each crowdfunding effort on SportyCo's system is going to be recorded in SPF Tokens. SPF Tokens are also used to buy extra services which SportyCo provides to athletes, sports clubs, investors, and other participants at the ecosystem.
From a technical standpoint, SPF Token is an ERC20 compatible utility token and it is currently listed on several cryptocurrency exchanges.
SUPERBLOKE
SuperBloke is a Korean start-up, build on blockchain, that collects and grows football players.
How Blockchain technology can bring new kind of fun for football fans?
According to SuperBloke, a user can grow a footballer from rising star to superstar level, which is based on real-life match stats and can also compete with other users. Basically, users can train and build their own digital version of real-life footballers by collecting digital player cards using real-life match stats and in-game training.
This is all done via the blockchain-powered collectable dApp "FC SUPERSTARS" where users can hold these player cards as digital assets. After a footballer's growth is completed, "it can be registered on Ethereum Blockchain and become a digital asset."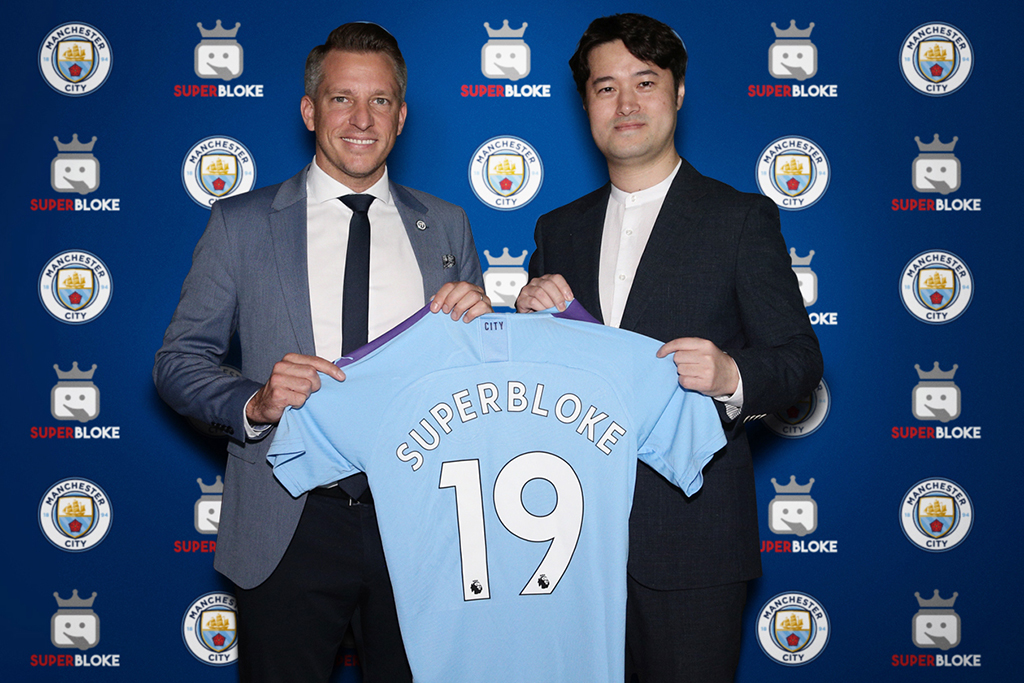 Earlier this year, Superbloke announce that it will be Manchester City's official blockchain-based Gacha partner in Korea, Japan, and Southeast Asia.
There are many online games related to popular sports like football have been concentrating on virtual players which the user trains and builds his team. But this is different because it is based on real-life stats and events. Is SuperBloke one of the fantasy football blockchain games? We would put it in the collectable assets category, but it's pretty close to what we were looking for.
---
The list of fantasy football blockchain games is meant to bring together today's top applications and projects. We are constantly looking for new projects to add to the list, so feel free to email us (contact@digitaltokens.io) if you know of any suitable project which is not yet listed here.