More and more startups seem to agree that Africa is the future of Bitcoin and can possibly be the next Crypto Valley. And the founder of Twitter, Jack Dorsey, agrees.
After his first visit to the African continent last year, The CEO of Twitter declared that this is the future of Bitcoin.
During his visit, Dorsey sought to find startup founders, such as Atsu Davon, the founder of Bitsika, a cross-border transaction app, based in Ghana.
Jack Dorsey announced that he will go back to Africa, and this time he will invite investors to come with him because the current challenges and workforce of Africa can prove to be exactly what Bitcoin needs to succeed.
Africa pays the highest remittance costs in the world and is one of the largest unbanked population. These can turn into opportunities for cryptocurrency startups.
But is this enough and will Africa lead the way to blockchain infrastructures and Bitcoin mass adoption?
What is the current progress of cryptocurrency in Africa?
According to Ray Youssef, the CEO of Paxful, a peer-to-peer Bitcoin marketplace, there is potential to bring Bitcoin into mass adoption, as he tries to teach people the use cases of crypto:
"Africans have had peer-to-peer financial systems in place for thousands of years,"
In Africa, sending money is so expensive and troublesome, that most of the time is better to go and deliver them yourself. That's why Paxful is so successful in Africa and 45% of its subscriptions come from the African continent.
Youssef believes that the best asset of the African continent are its people:
"The greatest national resources in Africa are above the ground, not below it,"
"It's the people—so driven, so ambitious, and just looking for a way to make a difference."
And the greatest feature of Africa is also young. 60% of the continent's population is under 25.
Philip Agyei Asare, the CEO of BTCGhana, a remittance platform founded in 2015, recognises the usage of crypto as a means to store value, a medium for borderless transactions.
As for the regulations in Africa, Atsu Davon, the founder of Bitsika sees it like this:
"African crypto is like the Wild West, there are no legal hurdles or regulations,"
"Governments don't know that much about crypto so they let people do whatever they want to do."
Atsu Davon also added that he knows about a case in which transactions of $30 million in Bitcoin were processed over the counter.
The potential of national digital currency in Africa
South Africa, Kenya and Nigeria are the three major economies in Africa and they are interested in crypto. South Africa and Ghana are looking into national digital currencies.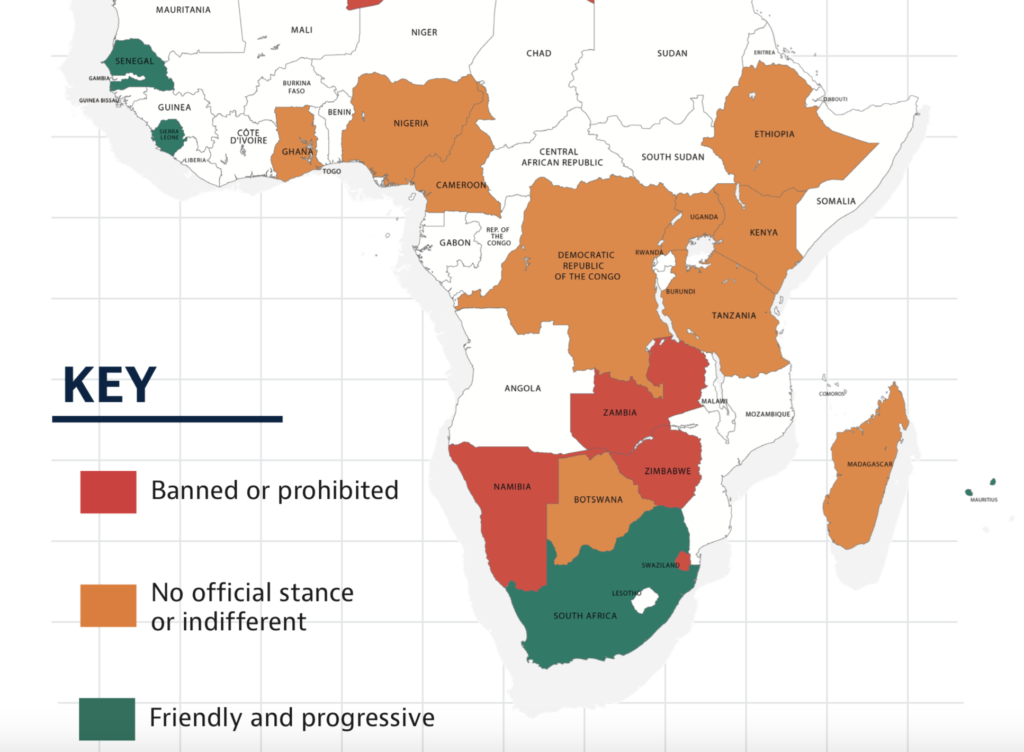 Senegal, one of the most liberal crypto state in Africa, is where the first crypto city has started being built by the rapper Akon. But the project seems to be stalled as an immediate improvement of education is more pressing.
Paxful started building 100 schools in 2017, using bitcoin.
Why Africa can be a giant sandbox for blockchain development
According to Bitange Ndemo, who heads Kenya's Blockchain and AI Taskforce:
"Africa missed the first, second and third industrial revolutions, but we have a real opportunity to be a part of the Fourth Industrial Revolution,"
Crypto and blockchain developments are obvious in the African continent. In Nigeria already exist blockchain commodity exchanges, while Kenya uses blockchain to establish land rights and to boost agriculture.
Cardano is a quite present platform, working to address local needs together with African governments.
At the moment, Africa can stop worrying about how it failed to develop the current technology because the future is here – AI, IoT and 5G. Africa can now focus on building all of these, better than the rest of the world.
The digital revolution has started in Kenya, where M-Pesa was founded, and it explores the applications of technologies like blockchain. AS the startups are thriving in Kenya, the government needs a trusted identity platform and to use biometrics to verify transactions.
The spread of smartphone usage in Africa led to the this digital revolution. Ten percent of GDP in transactions are made with mobile money
Many believe that in 2020, the African continent will have its own stablecoins. NairaEx is a crypto exchange from Nigeria which is working on Naira, a stablecoin backed by the national currency, while Bitsika is developing its own stablecoin.
The challenges of a big continent
Of course, Africa is huge and that means that we will see a lot of disparity in how technology is being used. Africa is home to over 1.2 billion people ans has 54 different countries.
What works in one country, can fail in another.
Although it is being regarded as a digital currency for the entire continent, M-Pesa's success from Kenya wasn't replicated in South Africa, and there is no explanation to it.
And while some countries make cryptocurrency very accessible, others have banned it, and Zambia is an example.
But what makes the African continent such a suitable place for a cryptocurrency revolution are its startup founders, who grew up in an era of digital transformation, and this alone could lead to Africa becoming the melting pot of cryptocurrency and blockchain developments.
Atsu Davon, the founder of Bitsika:
"Jack said the future of crypto is in Africa, and I totally agree,"
"If you just look at the freedom we have here, the talent and the attention we're getting from outside—and the role and purpose these solutions serve—this is the perfect place. When I look at all the exciting companies being built here, I think that very, very soon, we'll see a crypto valley happening in Africa."