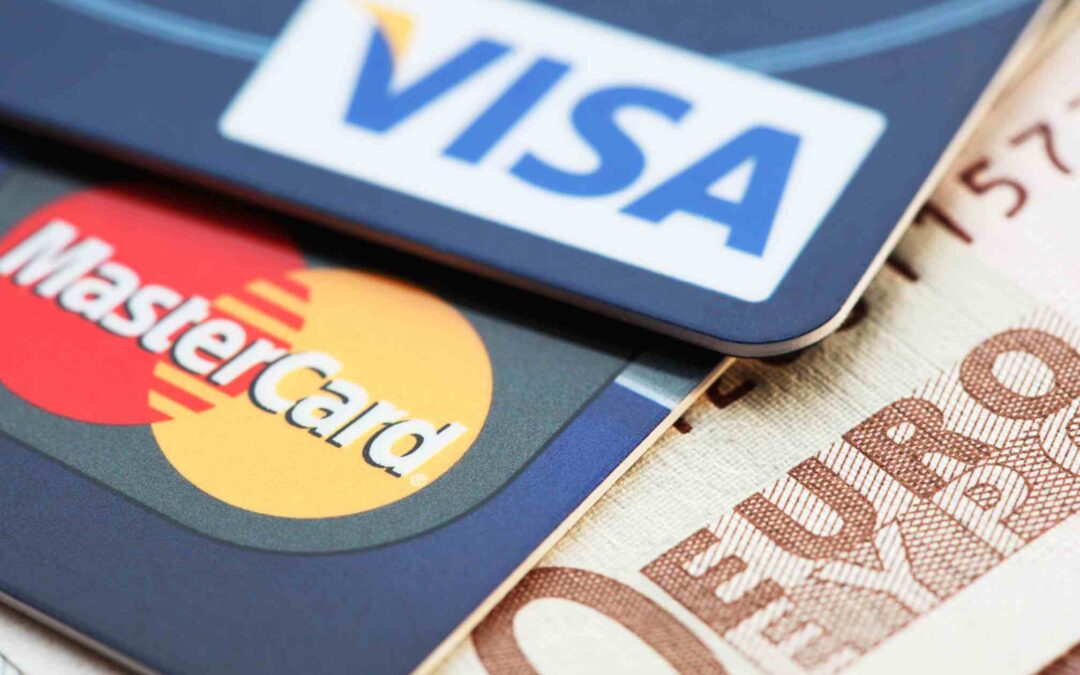 Both Mastercard and Visa continue to expand their presence in the crypto sector with new initiatives and collaborations.
Visa's crypto division is building the "next generation of products" for digital commerce and is seeking to hire software engineers with Web3 and blockchain experience.
Mastercard launches "Mastercard Crypto Credential," a Web3 user verification solution designed to enhance user verification standards and reduce opportunities for bad actors in the digital asset space.
Mastercard partners with crypto wallet providers Bit2Me, Lirium, Mercado Bitcoin, and Uphold, as well as blockchains Aptos, Avalanche, Polygon, and Solana.
Visa is paving the way for the mainstream adoption of stablecoin
Visa is working on a new crypto project that aims to make public blockchain networks and stablecoin payments more popular and widely used.
As a major global payment company, Visa is looking into how cryptocurrencies can be helpful by focusing on a new plan related to stablecoin payments. On April 24, Cuy Sheffield, the person in charge of crypto at Visa, shared news about this new project on Twitter.
Visa is working on a new crypto project that aims to make blockchain networks and stablecoin payments more common and widely accepted. Sheffield, who's in charge of the project, mentioned this in a tweet.
On April 20, Visa shared a job ad, saying they're creating new, advanced products to help with everyday digital shopping.
To create this product, Visa wants to hire software engineers who know about programming, backend systems, and Web3 technologies. Sheffield tweeted that they're especially interested in those with experience using Github Copilot and other AI tools for writing and fixing smart contracts.
Ideal candidates should know about layer 1 and layer 2 solutions and have experience with Solidity, a programming language used for smart contracts on the Ethereum Network. Solidity helps create smart contracts on blockchain platforms and keeps track of transactions in the system.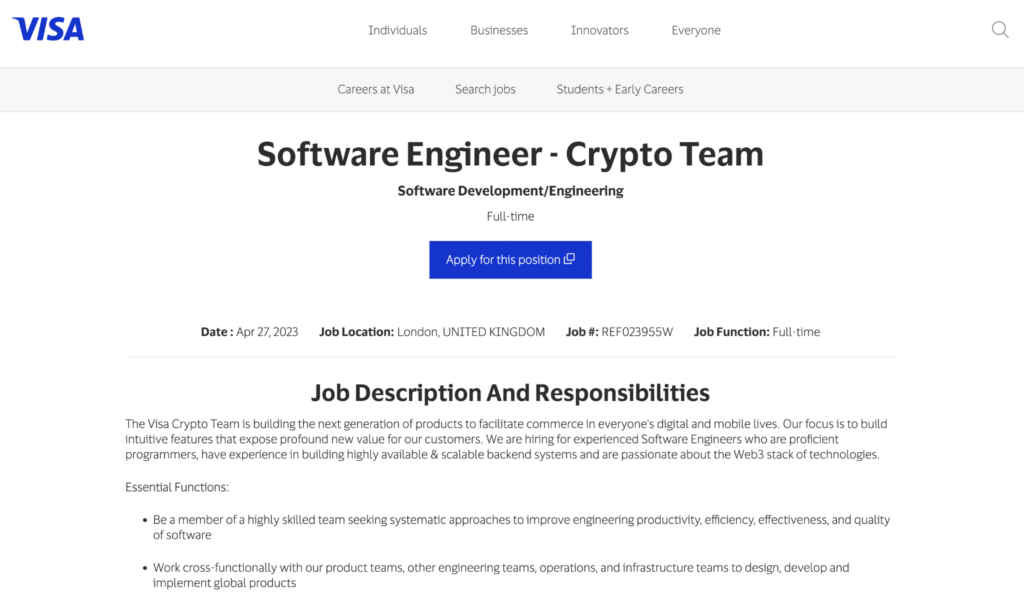 The job also needs candidates to know about different types of distributed ledger networks (public and permissioned), security measures, handling private keys, and new improvements in Ethereum, like ERC-4337. 
Visa, one of the biggest payment companies, started getting involved with crypto in 2020. They teamed up with blockchain company Circle to allow USD Coin (USDC) stablecoin on some credit cards.
Visa has been slowly growing its crypto services, but they stopped some new partnerships because of the 2022 crypto market downturn and big failures like Celsius and FTX.
Mastercard is enhancing user verification and strengthening security in the digital asset space
Mastercard's new approach focuses on offering safe transactions between users, verified based on the company's standards.
The worldwide financial company, Mastercard, introduced a new Web3 solution to improve user verification and limit chances for wrongdoers in the digital asset area.
They announced the "Mastercard Crypto Credential" solution on April 29. In a video shared on Twitter, the company explained that they are creating a method for Web3 and blockchain services to ensure secure transactions between users, following Mastercard's verification standards.
With this solution, users get a unique "Mastercard crypto credential" identifier, allowing them to quickly check if a receiving address is approved by Mastercard and follows the company's rules. Mastercard's solution also supports regulatory compliance by exchanging important metadata needed to meet requirements. This helps limit chances for wrongdoers and reduces the risk of losing funds permanently.
If any bad actors manage to get a unique identifier, Mastercard can quickly take away their verification if they're found involved in harmful activities. The company has partnered with many others for this solution:
For crypto wallets, they've joined forces with Bit2Me, Lirium, Mercado Bitcoin, and Uphold.
For blockchains, they've teamed up with Aptos, Avalanche, Polygon, and Solana.
Mastercard also plans to use CipherTrace's services, including CipherTrace Traveler, to verify addresses and ensure compliance with the Travel Rule for cross-border transactions.
Over the past few years, Mastercard has been increasing its involvement in the crypto sector. Recently, they announced a nonfungible token (NFT) musician accelerator program in partnership with Polygon. 
The program provides free access to resources, unique AI tools, and other experiences for holders of Mastercard's Music Pass NFT until the end of April.