The upgrade from a proof-of-work (PoW) to a proof-of-stake (PoS) blockchain is now completed. What does this mean for the first programmable blockchain? 
On September 15, 2022, after years of development, Ethereum's developers completed the Merge – the upgrade from a proof-of-work (PoW) to a proof-of-stake (PoS) blockchain. The PoS network is expected to power a more energy-efficient blockchain while reducing transaction fees and improving scalability.
Potentially, the payoff could be huge. Ethereum should now use 99.9% less energy. According to one estimate, Ethereum's energy consumption dropped from 77.77 TWh on September 14 to 0.01 TWh on September 16, 2022.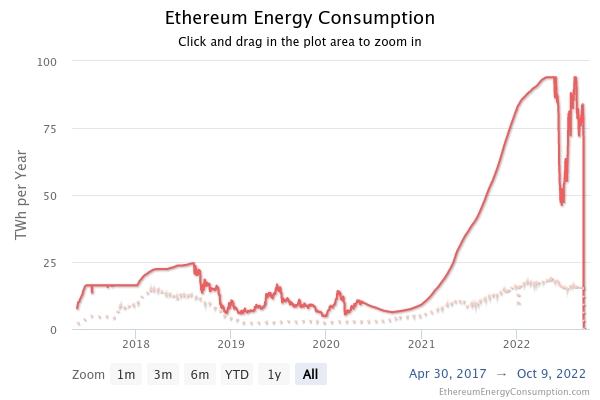 The developers of Ethereum claim that the upgrade will bring the network, which houses many cryptocurrency tokens, to a more scalable and secure state. Ethereum's TVL (Total Value Locked) is at about $30 billion, considering all its DeFi apps – DEXs, lending protocols, NFT marketplaces, and other apps.
The Ethereum Merge was completed at 7 a.m. UTC. However, the price of Ether (ETH) started to slowly decrease, dropping by 12% on the first day after the Merge. Ether's price started a downtrend, and many investors are bearish.
PoS Ethereum = no more ETH miners
In 2008, when Bitcoin was created, it introduced the concept of a decentralized ledger – a single immutable record that computers all over the globe could access and trust without intermediaries.
In 2015, Ethereum was introduced. It expanded on the core concepts of Bitcoin's blockchain by adding smart contracts. These smart contracts are bits of code that use the blockchain to record data onto its network and trigger automated transactions when certain pre-defined conditions are met. This innovation was key to decentralized financing (DeFi) and NFTs, which were the major catalysts for the recent crypto boom.
On Ethereum's proof-of-work (PoW) network, crypto miners were responsible for verifying transactions and adding new blocks to the blockchain in exchange for rewards paid in ETH. These blockchain operations required miners to invest in expensive hardware equipment that was capable of solving the required cryptographic puzzles – hence the intensive energy consumption of the network.
Ethereum miners were often organized in farms, which were actually huge buildings filled with mining equipment, similar to data centers, which were a huge strain on any energy network.
PoS Ethereum
The new proof-of-stake system for Ethereum, which is a blockchain-based cryptocurrency, completely eliminates mining.
Miners are now replaced by validators. To become an Ethereum Validator, you must stake 32 ETH on the network. This means that maintaining Ethereum's network security will not rely anymore on an energy-intensive computer network but the value of ETH stakes. It will require a similar level of electricity as any other computer software. 
Proof-of-stake is a system where the staked amount of ETH – and not the energy expended – determines who has control of the network. This makes attacks more costly and self-destructive, according to proof-of-stake boosters. Attackers can have their staked Ethereum slashed or reduced as punishment for trying to harm the network.
However, some are skeptical about the proof-of-stake security. There are no indications that Bitcoin, for example, will ever abandon the proof-of-work (PoW) consensus mechanism, as it is still seen as the more secure system.
Now, Ethereum's security relies on stakers
The upgrade to a PoS blockchain ends the network's dependence on energy-intensive cryptocurrency mining.
The idea that Ethereum would eventually switch to proof of stake was clear from the beginning. However, the transition was complicated and risky. Many people doubted that it would ever happen.
The complexity of the update was exacerbated by the fact it was one of the most complex open-source software projects in history. It required coordination among dozens of teams as well as volunteers, researchers, and developers.
Tim Beiko, an Ethereum foundation developer, played a crucial role in the coordination of the update. He believed that more investors would become interested in crypto after this monumental milestone in the crypto universe.
Vitalik Buterin, Ethereum's creator, suggested that there's still a long way ahead for the network: "This is the first step in Ethereum's big journey towards being a very mature system, but there are still steps left to go."