Revolutionizing the crypto and NFT landscape, Reddit's unique collectible avatars are on the brink of reaching a staggering 10 million users.
Reddit, a social media site, is nearly hitting 10 million users who have its special profile pictures, called "Reddit NFTs." These were introduced in July 2022, so it's been about 11 months.
Right now, data from Dune Analytics shows that there are about 9.9 million people who have these special profile pictures. Among these, around 7.7 million users only have one of these special profile pictures and do not have them in several accounts.
Non-fungible tokens on Reddit
In simple words, Reddit started a marketplace for special profile pictures on the Polygon blockchain in July 2022. These pictures, known as NFTs, were made by independent artists and people who create content on Reddit.
After the marketplace started, the number of people having these pictures grew quickly but then slowed down to about 3 million by November. However, there was a big increase in 2023, with the number of accounts holding these pictures tripling in the last six months.
From the start of 2023, the number of people with these special Reddit pictures has grown by 80%. The total value of the special profile pictures market is $38.4 million, and there are 13.7 million of these pictures.
Also, there have been over 303,033 sales totaling up to $32.6 million, according to the data from Dune Analytics.
In May 2023, a Reddit user named "ContextMelodic4212" praised Reddit for its success but also pointed out that some of the growth might be because of bots.
According to this Reddit user, there are some problems with people using bots to grab or 'scoop up' these avatars quickly. "However, I can't think of a better use case for this technology!"
On May 26, 2023, Reddit said it will now support the Rabbids NFT collection from the big video game company, Ubisoft. Reddit users can get these Rabbids NFT pictures for their profiles for free, and people are grabbing them really quickly.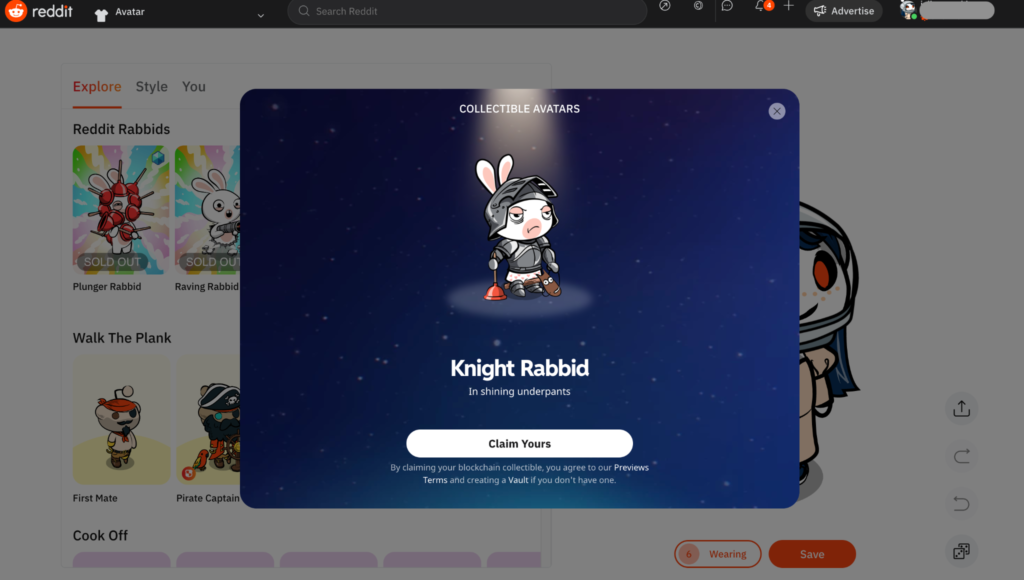 Rabbids first appeared as part of a different video game, the 2006 game "Rayman Raving Rabbids." Ubisoft, the company that made these games, was the first big video game company to create NFT items within their games in December 2021. They made a collection of Rabbids NFT pictures for a virtual reality game called The Sandbox in February.
During a Q&A session with the India section of Reddit on May 25, Sandeep Nailwal, who helped start Polygon, said he really likes Reddit NFTs. He said that Reddit is maybe the only big tech company that has figured out how to use NFTs well, and they've been able to get a lot of people interested in Reddit NFTs.
He also suggested that Reddit could improve its NFTs by having a secondary marketplace and a place for artists to launch their work. He thinks these changes could make Reddit's NFTs even better.
CryptoSnoo NFT from Reddit
But Reddit already had its own NFTs, which were launched in the summer of 2021. 
CryptoSnoo are a collection of NFTs from Reddit that features the popular Snoo mascot in different contexts.
CryptoSnoos are unique cartoon avatars that take the form of the Reddit logo. These are created as non-fungible tokens (NFTs), which means they are unique digital items stored on the Ethereum blockchain. Two years ago, in June 2021, Reddit started an experiment to auction off these special avatars.
Since the Reddit NFTs were well received, the users of the popular platform can still claim their CryptoSnoos.
Three CryptoSnoos named "Original Block," "Helium," and "Snoopermatic" were created on June 17, 2021. These NFTs are based on the original Reddit logo that Alexis Ohanian, Reddit's co-founder, designed in 2005. Reddit put them up for auction on OpenSea.
CryptoSnoos come in three categories: "Legendary" which means they are one of a kind, "Rare" which means there are very few of them, and "Epic" which means they are limited edition. Reddit users can find these available CryptoSnoos in Reddit's avatar builder.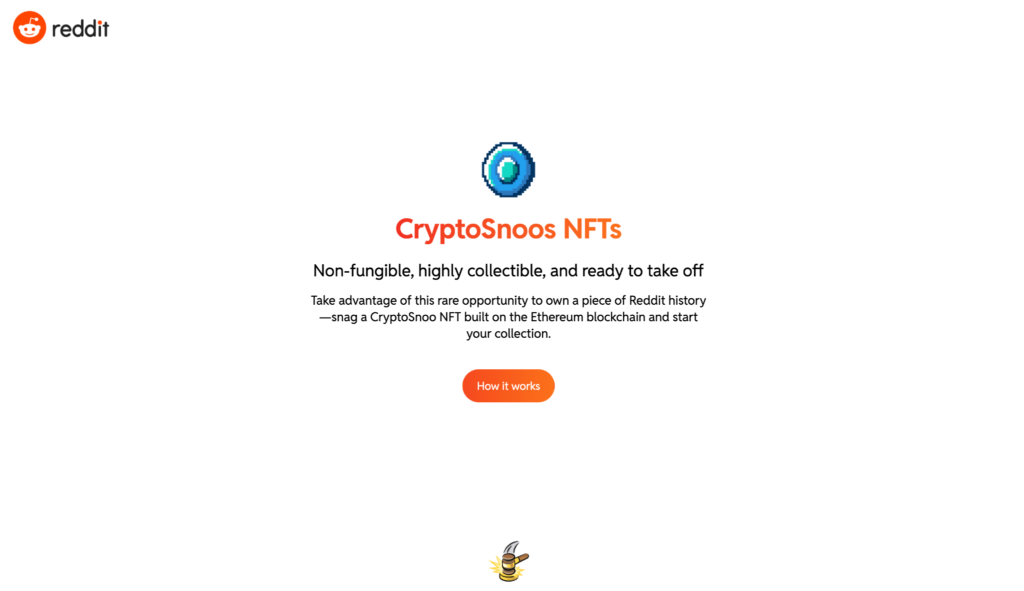 But buying an NFT from the CryptoSnoo collection doesn't mean you own the artwork it represents. Reddit's rules state that these NFTs are only for fun, and you don't get any commercial rights to the artwork. Also, Reddit has the power to take away your rights to the CryptoSnoo if you say bad things about Reddit or take any legal action against them.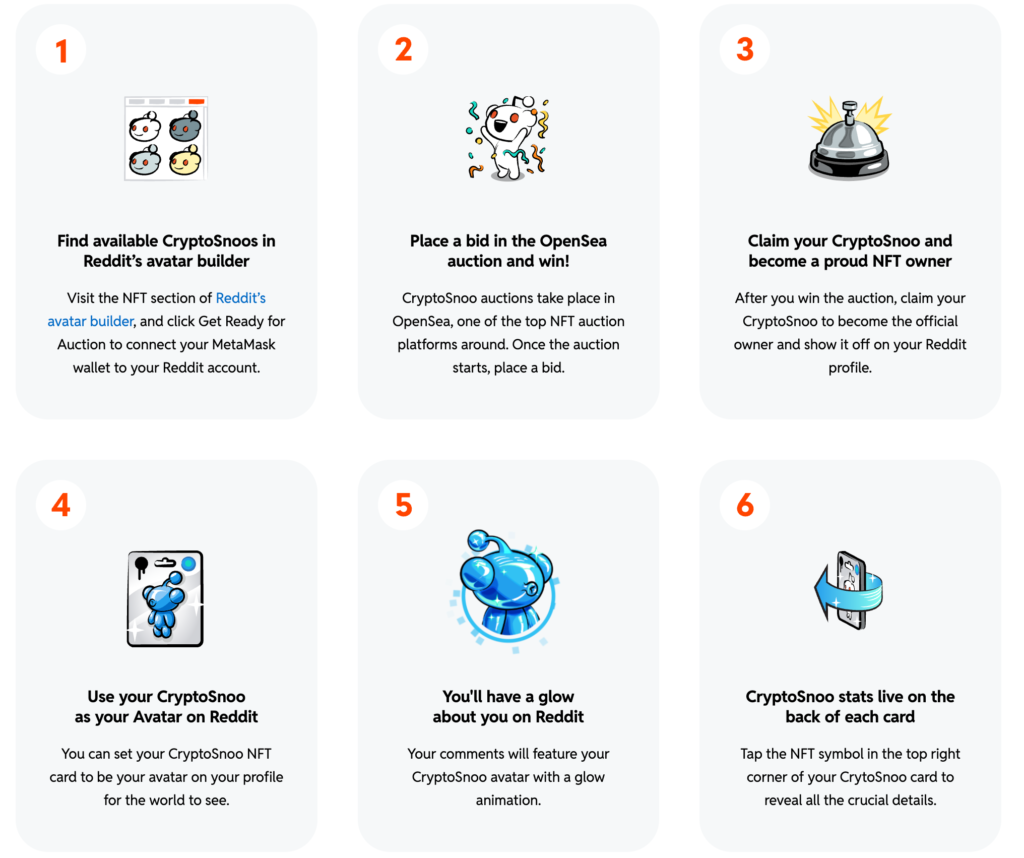 So, while CryptoSnoos might seem like a fun way to own a piece of Reddit history, potential buyers should understand what they are getting into before buying.