What is the goal of the Romanian Blockchain Summit?
The goal of the Romania Blockchain Summit is to promote the advantages of blockchain technology and its usage cases. The potential of blockchain technology is enormous, and it can achieve social and economic progress in Romania and the European Union.
Who was present at the Romania Blockchain Summit 2019?
Among the speakers and partners, we have to mention some of the most interesting faces at the event:
Alexandru Petrescu, the Romanian Minister for Communications and Information Society, Mihai Alisie, Co-founder of Ethereum, Livio Weng, CEO of Huobi Global, MRU PATEL, Flashmoni – CEO & Partner | EXcoin – President Global Operations, Armand Domuta. CEO Restart Energy, Sergiu Draganus, Co-founder of CryptoCoin.Pro, Miko Matsumura, Founder at Evercoin, Nicholas Merten, Founder of DataDash, Greg Limon, Co-founder of DigiMax.global Blockchain, Stephen Kines, CEO of Xcalibra, Daniel Dabek, Founder of Safex, Vali Malinoiu, CEO Swazm, Michael Loubser, Co-Founder and CEO of Core Group
What happened at the Romanian Blockchain Summit?
The agenda of the Romanian blockchain Summit 2019 was tight, and some sessions were held in parallel in different conference rooms. Some of the most exciting topics debated were: government support and building the legal framework for blockchain businesses, finding alternative funding, health management and public administration and security.
The event kicked off with one question launched by the co-founder of the Ethereum platform, Mihai Alisie. The question is: "How can cryptographic systems improve the lives of citizens, businesses and administrative organisations?"
He made it clear that this event and the transitional times we are living are not about cryptocurrencies, although Bitcoin is the reason for which blockchain became famous. Blockchain is a real and useful tool for creating tomorrow's society. The already existing e-residency programme in Estonia is far more than a case study, and it illustrates how the blockchain technology can be used in public services.
Alisie is militating for smarter citizens, cities, nations and a smarter Europe and during his presentation, he was keen to convince his audience about this with multiple examples and public statements made by the Estonian and the Swiss presidents, as well as other European authorities.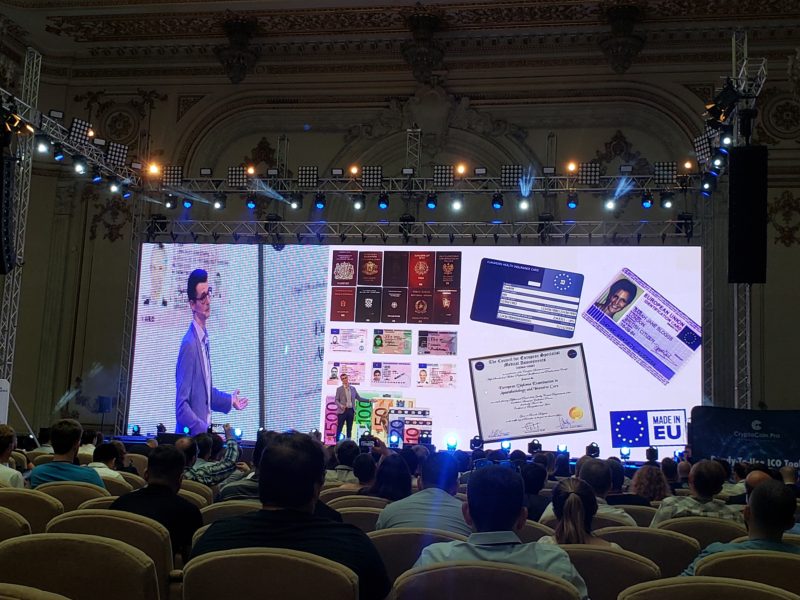 The presented news and arguments were freshly curated from international media. As Forbes recently stated, a Polish Bank Alior Uses Public Ethereum Blockchain For New Document Authentication Feature, while the Swedish are moving to the next stage with blockchain land registry. There is no news that Switzerland is a crypto and blockchain hub, and that in April 2019, Proxeus was legally registered as the very first Swiss company using blockchain technology.
His presentation had to get tied to the Ethereum blockchain eventually, and the United Nation Wolrd Food Programme was mention in the context of using Ethereum to air Syrian Refugees. Heal Bond is another organisation which uses the Ethereum Blockchain s a tool to provide 100% transparency of accumulation and distribution of funding, in a collaborative approach to curing HIV.
Of course, the blockchain is far more extensive than the financial industry which made it famous, but Alisie found it relevant to mention that Ireland's currency will be the first in Europe to be traded as e-money.
All of these examples of use cased of blockchain, to which he added the recently announced Facebook token, lead to the question "Can we do better?", in the actual context in which we have outsourced our privacy, freedom of expression and collective memory at a societal level to a handful of corporations. He left us off with a list of six critical actionable ideas for the immediate future:
Focus on use-cases instead of regulating "blockchain"
Support university offering blockchain education
Nurture local blockchain communities
Organise national and international "hackathons"
Think beyond "cryptocurrency"
Pilot programs with blockchain, DIDs (Decentralized Identifiers), VCs (Venture Capitalists), etc.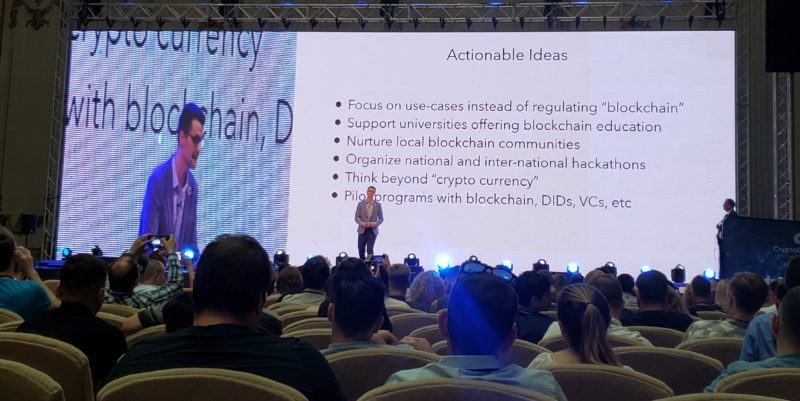 Livio Wong, the CEO of Huobi Global, used a translator to make sure he will transmit a clear message that the blockchain technology is going global and Huobi is here to help us. He stated:
It's unclear what changes blockchain will bring to the world in the future, but today we are all pioneers in this space, and Huobi is willing to work with you to create a new future.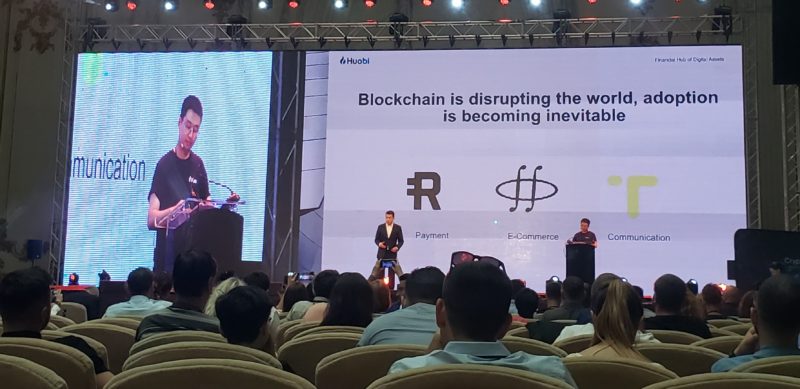 Government incentives and support for blockchain businesses
Another notable mention is the statement of Stephan Kines, the CEO of xCalibra, who talked about communities and why are they important in today's context:
The thing I want to talk about most is communities. Because societies are based and developed by strong communities. And this is something we really want to foster. Communities are grassroots just the way the blockchain is grassroots. So the kind of tokens of that we want to see on coming onward are ones that are building really strong communities. And that's how our society will be build up. That, together with innovations that are less esoteric and much more focused on real people.
The message that "Technology is about people" was brought up by Vali Malinoiu, the CEO of Swazm, a Decentralized Storage and Compute Platform. This is a Romanian project, aiming to bring together "every piece of computing into a single package" that can be used. The Swazm website states:
We developed a powerful and flexible blockchain computing and storage engine which aims to use any existent unused computing power, storage and bandwidth to serve the needs of real-world financial services businesses, ICO's and other organizations that want to develop, test build and deploy applications on the blockchain.
Swazm – An infrastructure capable of supporting millions of users at a very high network speed@SwazmBlockchain #Romania #RomaniaBlockchainSummit #BlockchainSummit #BlockchainNews #BlockchainSummit2019 #Bucharest #Dapps pic.twitter.com/4PGmjUNUa1

— DigitalTokens (@DigitalTokens) June 25, 2019
STOs and ICOs – developing the fundraising platforms of the future
Less than two years ago, ICOs were the tool for raising funds for blockchain and crypto projects. But things are changing and the way people will get funding for blockchain projects will too. As fast as technology is progressing nowadays, the Co-Founder and CEO of Core Group, Michael Loubser stated:
I think you will see the principle of whitepaper disappearing. You're likely to get something like private placement memorandum which is much more convenient, tangible with .. I don't think you should limit the principles of STOs or ICOs. It absolutely applies to any company that wants to enter blockchain or wants to trace finance.
Blockchain – enabling personal health management
The blockchain technology is not all about currency. Blockchain can and eventually will be the standard for many industries. Another key point about the use cases of blockchain is the health management systems. Dr Danyal Akarca, from Medicalchain made it clear that the point is not to store any health-related information on the blockchain.
This wouldn't make sense from a logistic and security wise point of view. Talking about medical files, these can go up to terabytes of information and would clog any blockchain, and that would go against the very first idea of accessing information from anywhere, on a short notice basis.
If we want to have the advantages of blockchain auditability and verifiability, so that if a patient comes to me I know that information they're giving to me is correct. I don't want to give someone antibiotics if they have an allergy to the antibiotic that I've got. How do I know that they have that allergy? Well, I can look in a blockchain and if I think that the network has come to consensus correctly, then it's a secure system and I will trust that'a collective network. These are all advantages of the blockchain system, but we need to go beyond on how we can store this information.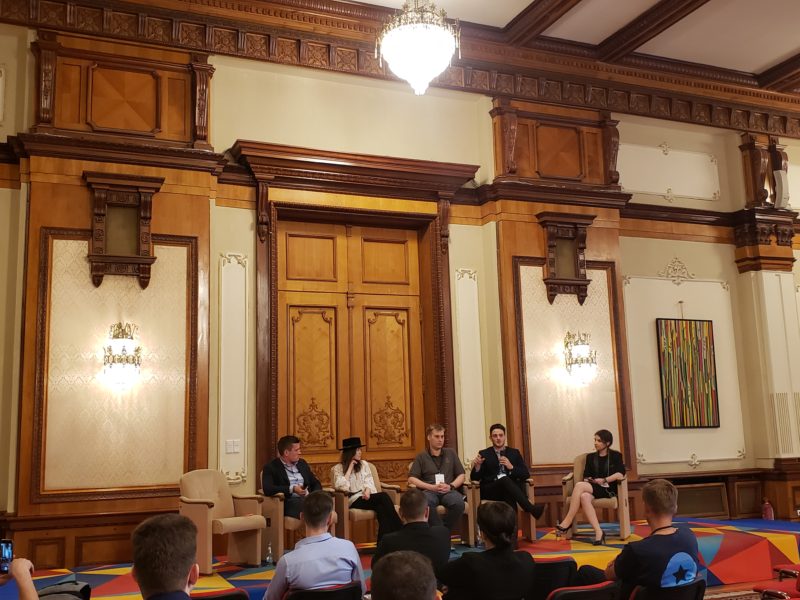 Medicalchain uses blockchain technology to securely store health records and maintain a single version of the truth. Dr Akarca compares this system to the e-citizenship system which Estonia has in place.
The similarity is that neither system has essential information on the blockchain, but that the individual has complete permission to their health record and that the blockchain does not hold any information but only provides data access to the portal and the individual can go to third parties and voluntarily offer access to that data.
He also makes the point that the medical IT infrastructure is years behind the technology.
A couple of other key points raised during this panel were security and suggestions for young entrepreneurs. Medical data is perhaps the most important data an individual holds and the current systems let that information leak or disappear to the point where it causes damage. So a first point to make in the discussion of how to improve the health care systems would be security. Health data need to have a soft with cryptographic security. Another point made was of the business model.
Entertainment for mass adoption of the blockchain technology
"Winning is not really important, unless.. you're not winning" is a famous quote and it certainly applies in our day to day life, not just sports. And definitely, not just football. But when it comes to entertainment, and you are aiming for mass adoption, then the target should be the masses.
Football is the most famous and profitable sports of all times, and it is present almost in every country on the globe. With a global audience of 3.5 billion people, this makes football the king sports. And FootballCoin considered this when they create the first blockchain fantasy football manager game.
A game of skill using collectable cards and real rewards.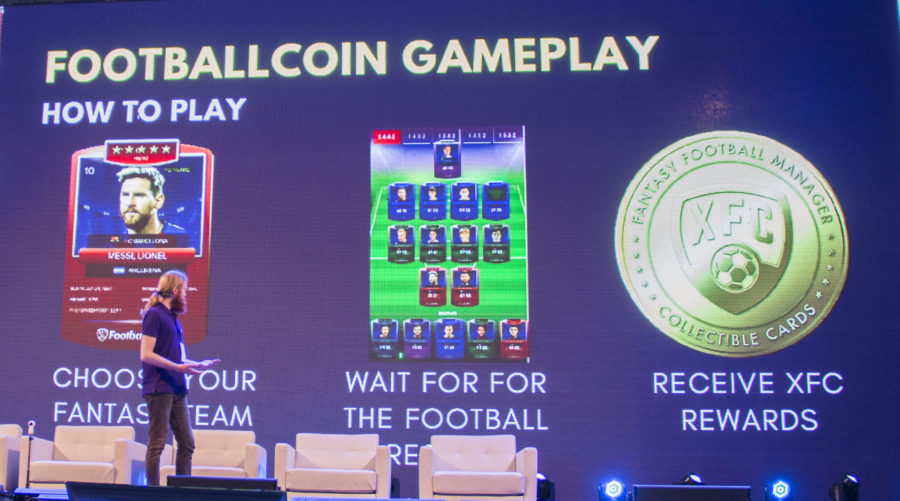 The FootballCoin game has all the contests from the game as well as the assets from the game, not just the cryptocurrency, on the blockchain. They build their own blockchain using the multichain technology and this might be the end of endless hours wasted on games. Because the premise of the game is that "you own what you collect" and everything in the game is a digital asset which can be traded on the available cryptocurrency exchanges or exchanged with other players. This concludes that the gaming industry can be a way to get free cryptocurrency if anyone is still wondering that.
The ultimate goal of FootballCoin is to create a bridge between the world of sports and cryptocurrency.
Romania Blockchain Summit 2019 Partners
Core Token
Core Token is a service system which connects the current world to the fast emerging blockchain based world through means of tokenisation.
EXcoin
EXcoin is the world's first block chain derivatives exchange to launch digital options trading. The EXcoin team is committed to connecting the digital currency and financial derivatives markets.
Bucharest Stock Exchange (BVB)
The Bucharest Stock Exchange (BVB) is building competitive capital markets in Central-Eastern Europe. BVB is aiming to shape one of the most comprehensive markets in Central-Eastern Europe by creating attractive opportunities both for companies and investors in a dynamic and transparent environment.
Safex
Safex is on a mission to enable decentralised, free worldwide trade that we call the new market economy. Safex makes it possible for a user to directly buy and sell goods and services directly on the blockchain, no need for hosting services or connecting with payment processors.
xCalibra is a secure and high-performance exchange, which makes it easy for you to buy, sell and trade premier cryptocurrencies.
GeoRanker
GeoRanker provides and continuously develops tools to track and improve all of a website's SEO or SEM efforts from a local perspective. GeoRanker's platform is built for specialists in SEO, Local SEO and PPC, interested in local results or multiple locations.
Bitpanda
Bitpanda believes in the innovative power of cryptocurrencies, digitised assets and blockchain technology. Their mission is to tear down the barriers to personal finance and bring traditional financial products into the 21st century.
FootballCoin
FootballCoin gives you the chance to showcase your managerial abilities by allowing you to create your perfect football team. This blockchain game has you registering it in competitions, create the team's roster, and winning prizes based on your football knowledge.
TokenPay
TokenPay is an open-sourced, decentralised, and self-verifying payment platform project with a passionate community following. Their mission is for users and merchants to be able to transact in crypto and receive fiat settlement, directly to their bank accounts.
DISPRUPTIVE
Dispruptive is an agency that leads with PR, because PR should sit at board level and be infiltrated through every part of the business and its ICO/STO. Reputation matters. And an agency that understands how to get organic press coverage in the top tier titles – without being charged by the publication.
EximBank
EximBank is a specialised financial institution actively involved in supporting and promoting the Romanian business environment its financial instruments being exclusively targeted to the corporate segment.
CEC Bank
CEC Bank must be a competitive universal commercial bank able to offer diverse and high-quality bank products and services to its clientele, focusing mainly on financing SMEs agriculture, public administration, as well as those banking projects that, by their nature, contribute to the economic development, generate and maintain the jobs number.
SIF Moldova
SIF Moldova is an alternative investment fund
---
In the end, after two days of intense blockchain debates, the conclusions were many, and they all led to a hopeful future of the industry and a promise of a new edition of Romania Blockchain Summit next year. But a straightforward idea, which will leave us questioning all the things around us is:" Investing should be as easy as ordering pizza."