Goodbye 2018, Hello 2019
What happened to Bitcoin and other cryptocurrencies in January 2019? How did the crypto market perform and what other cryptocurrency news should you look after? Find out some of the cryptocurrency highlights of January 2019.
This is the chart for Bitcoin for January 2019.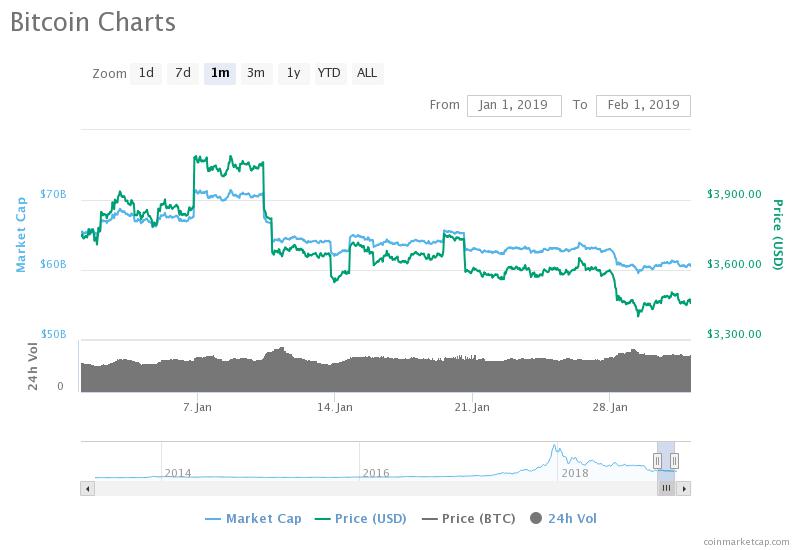 The new year started slowly for the crypto market, as it was bouncing between a high of $135.4B and low of around $125B. The first week ended with a market cap of $129B – slightly under a 6% weekly gain.
Cryptocurrency Market Stats (1/4/2019)
Cryptocurrency and Blockchain News
31st December 2018 
The online retailer Overstock announced it would pay a part of its Ohio state business tax using Bitcoin.
The state will charge a 1% fee on payments made with Bitcoin, which is less than the 2.5% service fee on credit card payments.
7th January 2019
Some northern Nevada areas are utilizing blockchain to store computerized version of government records like birth and marriage certificates.
The U.S. National Aeronautics and Space Administration (NASA) published a proposal for using blockchain for air traffic data. They describe it as "an open source permissioned blockchain framework to enable aircraft privacy and anonymity while providing a secure and efficient method for communication with Air Traffic Services, Operations Support, or other authorized entities."
8th January 2019
Nick Szabo, one of Bitcoin's earliest developers, spoke at the Israeli Bitcoin Summit. During his presentation, he made a bold claim, "There's going to be some situations where a central bank can't trust a foreign central bank or government with their bonds…a more trust minimized solution is cryptocurrency."
10th January 2019
Darren Soto, blockchain's biggest fan on Capitol Hill, told Cheddar.com this week that the SEC shouldn't have jurisdiction over most cryptocurrencies. He stated that "securities laws can be very intense", which inhibits the growth of blockchain technology.
15th January 2019
The state of Wyoming proposed a bill to legalize the tokenization of stock certificates for corporations. Beyond stock issuance, the bill would make voting via blockchain legally binding as well.
Blockchain companies are beginning to notice too. IOHK, the development company behind Cardano, has announced plans to relocate from Hong Kong to Wyoming.
16th January 2019
Exchange owners reacted to Cryptopia's recent hack. Binance CEO Changpeng Zhao (CZ) outlined the risks of storing funds yourself, encouraging users to only store coins on reputable exchanges or, even better, decentralized exchanges (DEXs).
17th January 2019
Professors from MIT, Stanford, and Berkeley will attempt to create a new cryptocurrency with faster transaction speeds and the same core decentralization principles of crypto. The new crypto, Unit-e, will allegedly process up to 10,000 transactions per second utilizing a new form of sharding.
Unit-e is the first project under Distributed Technology Research, a non-profit for creating decentralized tech and backed by investors such as Pantera Capital.
18th January 2019
The Pennsylvania Department of Banking and Securities (DoBS) talked about the classification of cryptocurrencies: "only fiat currency, or currency issued by the United States government, is 'money' in Pennsylvania." This classification means that cryptocurrency exchanges and kiosks like Bitcoin ATMs are not required to get Money Transmitter Licenses (MTLs).
According to the DoBS, to require an MTL, "fiat currency must be transferred with or on behalf of an individual to a 3rd party, and the money transmitter must charge a fee for the transmission." As crypto entities exchange fiat for crypto directly, they do not qualify. This is great news for cryptocurrency businesses, but they still have to follow the stricter rules of the federal government and other states in which they wish to operate.
22nd January 2019
CNBC hosted a panel in Davos, Switzerland. Here are some memorable quotes regarding Bitcoin, cryptocurrency, and blockchain technology from the discussions:
Jeff Schumacher (Founder, BCG Digital Ventures): "I do believe [bitcoin] will go to zero. I think it's a great technology but I don't believe it's a currency. It's not based on anything."
Glen Hutchins (Chairman, North Island): "The way to think about the value of the tokens is as a derivative of the use value of the protocols they enable."
Brad Garlinghouse (CEO, Ripple): "The long-term value of any digital asset is derived from the utility it delivers."
Edith Yeung (Partner, 500 Startups): "I think it's a really good thing that now the crypto secondary market has, in some way, fizzled out because the people who are here now building are the ones that really believe in the technology."