According to the publication Le Matin Dimanche, the football-themed NFT website, Sorare, has been banned in Switzerland.
Here is an excerpt from Rebecca Garcia's article investigating the recent official forbiddance of the game in Switzerland.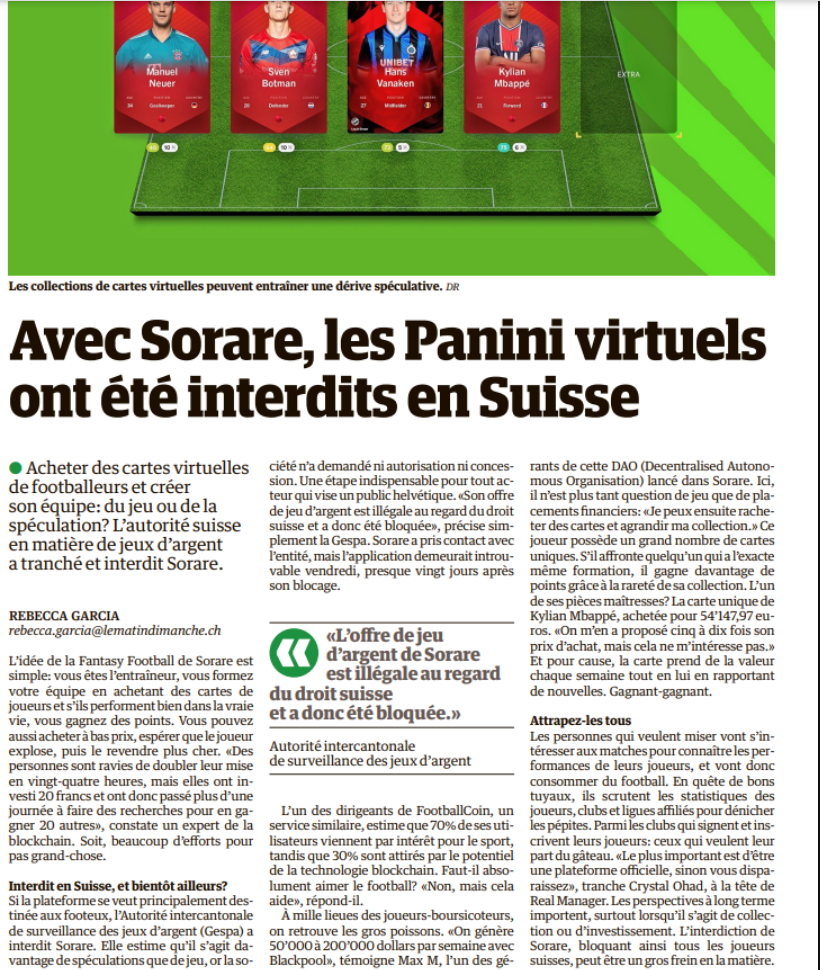 "Buying virtual player cards or footballers with the purpose of creating a customized team: is this a game, or simple speculation? Swiss authorities have leaned towards the latter and have taken the decision to ban Sorare.
The ideas behind fantasy football and Sorare are simple enough. Users are encouraged to purchase cards of football players. If they perform well in real life they accumulate points. You can also attempt to buy the card at a smaller price in the hope that its value will skyrocket in the future and that you can sell it for a profit.
"The users are delighted to try and double their bet in 24 hours. But, they might invest 20 francs and spend a whole day researching this so that they can win 20 more times," says one blockchain expert. Therefore, there can be a lot of effort involved for not much.
Banned in Switzerland, and soon elsewhere?
Although the platform views itself primarily as being focused on football fans, l'Autorite Internationale de surveillance des jeux d'argent (Gespa) has banned Sorare. The officials have decided that the game encourages financial speculation for which they do not own a valid authorization. This is vital to be able to function legally in Switzerland.
Gespa simply motivated their decision by stating that games of chance, or gambling are prohibited in Switzerland, and therefore Sorare is banned.
One of the market's leaders, FootballCoin, a similar fantasy football game estimate that over 70% of its users join their game because of an interest in sports. The other 30% are, however, interested in the blockcain technology. Do you absolutely need to know football to be able to play? "No, but it helps," the game's representatives state.
Thousands of speculative users play Sorare every month looking to buy more cards. "I've made 50.000 to 200.000 dollars a week on Blackpool", says Max M, one of the managers in this DAO (Decentralised Autonomous Organisation) launched in Sorare.
Here it's not a matter of playing the game well, but making the right financial decisions. "I can redeem my cards and grow my collection." This user owns a large number of unique cards. Even if a user has the exact same selection in the game, they might be at a disadvantage because of the rarity of the cards.
The unique card of Kylian Mbappe has sold for 54.147,97 Euro. "I was offered five to ten times the price I paid to buy the card, but I wasn't interested." And, the card could grow in value from one week to another while new cards are released all the time. A win-win.
Collect them all!
The people that bet on Sorare might take an interest in the football matches so that they can know the performances of the players. In the search for good tips, they may scour the internet to find good statistical data and info that will help them in retrieving the golden nuggets. Among the clubs that sign and register their players, there are those that want their slice of the pie.
"The most important is for it to be an official platform, otherwise it will disappear," says Crystal Ohad, head of Real Manager. It's important to consider the long-term perspective when it comes to investing in developing a collection of cards. The official ban of Sorare in Switzerland could end up being a big break on their activities."
It is important to note that games such as FootballCoin continue to function openly on a global scale, with the game using strictly a fantasy football system that involves, exclusively, the use of skill, unlike Sorare where teams are composed of 5 players a side and the rarity of the cards determines the outcome.